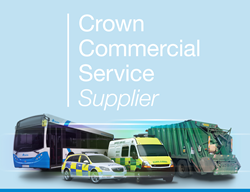 Whether a public sector body is running just a couple of vans or thousands of mixed vehicles, it can now cut its fleet running costs within minutes.
(PRWEB UK) 16 September 2014
The Fuel Card Group has signed a Framework Agreement with the Crown Commercial Service (CCS), making it easy for public sector vehicles to access cut-price fuel. The Agreement, RM1027 – Fuel Cards and Associated Services, covers all Group brands including The Fuelcard People, Fuel Card Services and MileageCount. It greatly simplifies the procurement of diesel and petrol, and helps to avoid the £2 transaction fees imposed upon public sector customers by other suppliers.
Steve Clarke, marketing manager for The Fuel Card Group, said: "This enabling agreement simplifies the public sector procurement process, because the CCS has established pre-agreed terms and conditions for individual contracts. Anybody in the public sector running vehicles can now arrange fuel cards within minutes, rather than weeks. Whichever fuel card they choose from our range, they can expect to save up to 5p per litre for both diesel and petrol. They can also be assured that there will not be transaction charges, whenever they refuel, or any other additional fees."
The Framework Agreement can be used by organisations across the UK public sector including central government, local government, health, education, devolved administrations, emergency services, defence and not-for-profit organisations. The Agreement is fully EU compliant, saving customers the time and money associated with conducting their own procurement exercise. Suppliers are carefully evaluated during the tender process and pre-agreed terms and conditions offer customers sound contractual safeguards.
The CCS is an executive agency and trading fund of the Cabinet Office. Responsible for improving government commercial and procurement activity, it provides a professional procurement service to the public sector. CCS framework agreements are a set of pre-tendered contracts with suppliers from which public sector customers can purchase goods and services.
Steve Clarke said: "Whether a public sector body is running just a couple of vans or thousands of mixed vehicles, it can now cut its fleet running costs within minutes. The CCS has done all of the legwork, so that an organisation only needs to choose the fuel card or cards that suit its specific needs. Being independent and impartial, with an unbeatable range, we can assure them the best possible combination of service, savings and security. I would urge all fleet managers in the public sector to ask five very important questions before choosing a fuel card supplier."
Public sector organisations should be aware that not all fuel cards and fuel card suppliers under the framework agreement are the same. It makes a difference which one they choose, and asking the following vital questions will provide clear and precise answers.
Question 1: "Do they levy transaction charges?" Public sector organisations need to hear a simple, "no" to this question. It does not matter how they try to explain or justify it, nobody should want to load fuel invoices with an extra £2 for every fill up. Other companies do not need to charge extra, so nor do they.
Question 2: "Do they give discounts?" Anything other than a straightforward, "Yes," should have public sector organisations hanging up the phone. Believe it or not, some suppliers will want their customers to pay full retail price for diesel or petrol. There is no way to justify this. The whole point of fuel cards is to spend less.
Question 3: "Which fuel cards do they offer at a discount?" This is where they should reply, "All the major brands: BP, Esso, Shell and Texaco." That is the minimum answer, but public sector organisations should be offered specialist networks, such as Diesel Direct and UK Fuels, as well - any less than this means that they are not being offered a choice from the whole market.
Question 4: "Do organisations need one card that can be used everywhere?" The truth is that public sector organisations do not, so any answer other than "no" is nonsense. BP, Esso, Shell and Texaco all have huge networks, so being able to use one of these is hardly a problem.
Question 5: "Do customers get a dedicated account manager?" The answer to this question should be, "yes, of course", because that level of personal service shows that they will value your custom. In practice, almost everyone will expect customers to sit in a call centre queue before talking to a random, anonymous operator who has never heard of their organisation. Public sector organisations might think that always speaking to the same person, who understands the organisation's specific needs, would be more efficient.
"The first question is common sense," said Steve Clarke. "If an organisation is looking to reduce fuel costs, they clearly have to avoid any fuel card that charges £2 for every fill up. The last question may be less obvious, but if a supplier is not prepared to let an organisation deal with the same account handler each time they call, that says a lot about their attitude to customer service."