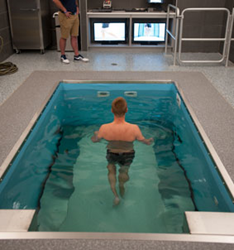 "Aquatic Training for Healthy Athletes" covers a myriad of uses for underwater treadmill training beyond therapeutic and rehabilitative methodologies.
Middletown, PA (PRWEB) September 08, 2014
While it's common for athletes who have been injured to seek out physical therapy options such as aquatic therapy exercise regimens, healthy athletes can also benefit from working out in the warm water of a therapy pool outfitted with an underwater treadmill and resistance jets. In fact, many coaches and athletic trainers encourage their non-injured athletes to cross-train by running and performing drills underwater in an effort to build lean muscle mass, increase endurance and avoid overuse injuries.
On September 10, 2014, at 11:30 AM EDT, HydroWorx will be hosting a free webinar discussing this subject. "Aquatic Training for Healthy Athletes", presented by Timothy DiFrancesco, PT, DPT, ATC, CSCS, covers a myriad of uses for underwater treadmill training beyond therapeutic and rehabilitative methodologies.
During the hour-long online event, attendees of "Aquatic Training for Healthy Athletes" will learn more about the dynamic properties of water, and how those properties can help athletes recover faster and reach new levels. Other issues to be covered by DiFrancesco include:

Using an advanced HydroWorx pool to stave off boredom, "staleness" or plateaus.
Creating an aquatic training strategic plan for each athlete that doesn't sacrifice their high-performance training regimen, but rather augments it.
Prepping athletes to get the most out of any aquatic workout.
Case studies of scientific research that has been performed regarding athletic training in an underwater treadmill pool will also be discussed.
DiFrancesco has a wealth of experience working with athletes. After graduating from Endicott College in 2003 with a B.S. in Science/Athletic Training, he earned his Doctorate of Physical Therapy from the University of Massachusetts Lowell. From that point, he co-founded TD Athletes Edge, LLC, an organization that's goal is to provide results-driven rehab and performance training. DiFrancesco spent two seasons with the Bakersfield Jam of the NBA-Developmental League as Head Athletic Trainer and Strength and Conditioning Coach. In late 2011, he came on board to help the Los Angeles Lakers.
Anyone interested in attending "Aquatic Training for Healthy Athletes" can register at http://ww2.hydroworx.com/webinar-healthy-athletes. Athletic trainers who attend the entire session can receive one CEU through BOC. Other CEUs may also be available through participants' authorized professional accrediting organizations; participants are encouraged to contact those accrediting entities for more information.
About HydroWorx
HydroWorx, based in Middletown, Pennsylvania, offers a wide range of underwater treadmill therapy pools, and peripheral products and services. Every day, more than 23,000 athletes and patients use HydroWorx technology to recover from injuries and health conditions.
More information about HydroWorx's upcoming webinars, as well as archived webcasts from previous events, can be found by visiting http://www.hydroworx.com/research-education/video-library/details.aspx?id=151&categoryId=23.
# # #