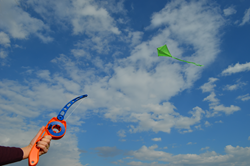 Castakite was selected by Popular Science in its August Issue as #3 of the Top Ten Best Products
Monroe, New York (PRWEB) September 09, 2014
It's a fishing reel. It's a kite. It's a Castakite™. Introduced by 25-year-old inventor Matthias Hackett in New York at the International Toy Fair in February, Castakite is now sold internationally in toy stores and online through Castakite's website. Castakite, LLC's fortunes are rising on a wind of excitement. Recently, the Castakite was selected by Popular Science in its August Issue as #3 of the "Top Ten Best Products." Castakite also has earned positive consumer press. Following their February launch, Castakite, LLC sold more than 4,200 units in the first two weeks on the market. With sales skyrocketing, Castakite has fought to keep up with the demand.
Explains Hackett: "The Castakite™ eliminates all of the well-known challenges of flying a kite: tangled lines, cuts from direct line contact, confusing D-Loops, and difficulty getting the kite off the ground. Just hold the iBeam Rod up and push the Altitude Trigger. It's that easy." Success for his simple invention has come much more easily than he expected.
The idea for Castakite was sparked on a family beach vacation in 2010. Then a junior in college, Matthias Hackett came to the rescue of his cousin, whose kite string had cut her hand. Hackett attached the girl's kite to his fishing reel. It worked like a charm. "I thought, this is so logical and simple. Cast it out and the kite flies. Reel it back in and it comes straight down," says Hackett. "But once back home, I couldn't find a kite with a casting mechanism like that anywhere. I was surprised that no one had thought of it before me, but apparently they hadn't."
Hackett researched the market and found that 50 million kites are sold in the U.S. each year. Being an outdoorsman, he also liked the idea of a product that would get kids away from their electronics and outside and active. He knew he had to bring his kite reel and rod product – which he named the Castakite – to fruition.
Serendipity pushed the idea along like a gentle breeze. Senior year Hackett convinced a professor to allow him to create a business in place of a required college class. He hired an attorney to draft a patent application. Then, finding that the mold would cost $50,000, he sought out an investor/business partner to get the idea off the ground.
As an avid fly fisherman, Hackett's knowledge of reel mechanics allowed him to visualize the inner workings of a Castakite. He hired an MIT-trained engineer to develop his vision. A relationship with a major plastics company and a source for the packaging fell into place. After four years and many prototypes, the Castakite™ was ready to launch in late 2013.
The next step was to get his Castakite into the hands of toy buyers. At the time Hackett had no experience and no clue how to do that. He reached out to another young inventor who suggested Toy Fair New York City. The mega convention just happened to be coming up in February and was under an hour away from his house. Hackett worked hard to squeeze into the trade show, claiming the last available booth (in a distant corner far from the main action) when another vendor dropped out. With only four Castakites in hand, Hackett attended the toy show, made valuable contacts, signed dealers, and came away with 2,500 units ordered in four days of exhibiting. He sold out of his initial inventory and found himself reordering. Hackett now sells through a range of channels internationally and on castakite.com.
Hackett concludes, "I'm just a young guy with a crazy idea to revolutionize the kite – a fixture that's been around for 3,000 years. It's amazing how quickly the idea has caught on. I have a good feeling the Castakite is on its way to becoming a toy classic in the mold of Twister or Slinky."
Castakite, LLC was founded to get children outside and active, contributing to a healthier upbringing filled with fun. Castakite's mission is to create ear to ear smiles from coast to coast....Watching the face of a child light up as they gaze at the wonders of flying is why the company exists.
For more information: Toll free: 800-297-KITE.
Email: matthias(at)castakite(dot)com.
http://www.castakite.com.
64 Mansion Ridge Blvd. Monroe, NY 10950.
###