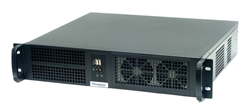 VideoPropulsion DTV turn-around gear is powering the secure delivery of content to Smart TVs globally.
Amsterdam, Netherlands (PRWEB) September 11, 2014
VideoPropulsion® (OTC:VPTV), exhibiting on stand 6.A05 at the IBC 2014 show, is touting its DTV turn-around solutions with support for International Smart TVs. VideoPropulsion provides a number of DTV turn-around solutions for numerous commercial markets through its FloodGate® product line. These products support International Smart TV markets by securely delivering MPEG content encrypted using industry-standard AES-128 encryption.
For example, an operator in South Africa using a VideoPropulsion FloodGate is able to deliver DVB-S2 satellite-sourced H.264 content securely to Samsung Smart TV's over IPTV networks in hotels. The FloodGate can ingest MPEG Single Program Transport (SPTS) streams, encrypt them into SamsungLYNK, and output IP multicasts for delivery to the Smart TVs deployed in the hotel's guestrooms.
"As Smart TV's and the delivery of content over IP networks continues to proliferate internationally, we have positioned our product line to enable operators to securely deliver content in these environments," said Carl Pick, Chairman and Chief Scientist at VideoPropulsion. "Whether its SamsungLYNK encrypted H.264 satellite-sourced content, or transcoded MPEG2 CATV content transcrypted from DTCP to Verimatrix, VideoPropulsion turn-around gear is powering the secure delivery of content to Smart TVs globally."
Secure DTV turn-around solutions compatible with International Smart TVs are available directly from VideoPropulsion. Visit with VideoPropulsion at stand 6.A05 at IBC 2014 in Amsterdam, September 12-16, 2014.
About VideoPropulsion
Now in its 40th year, VideoPropulsion has been a world leader in hardware and software for high performance, low cost per stream, digital content manipulation, and has established a reputation for providing unique HDTV, VoD, and IPTV products. The Company offers revolutionary FloodGate satellite and CATV transcryption appliances as well as OEM computer modules for a variety of applications, including streaming, multiplexing, demultiplexing, modulation, demodulation, transcoding, encryption, and splicing MPEG formatted data.
For further information, contact:
Kathy Cain
Vice President of Sales
VideoPropulsion
255 Info Highway
Slinger, WI 53086
(262) 644-1000 x107
sales(at)videopropulsion(dot)com
http://www.videopropulsion.com
VideoPropulsion and FloodGate are registered trademarks of VideoPropulsion
Interactive Television, Inc. Pro:Idiom is a registered trademark of LG Electronics. SamsungLYNK is a registered trademark of Samsung. Verimatrix is a registered trademark of Verimatrix.