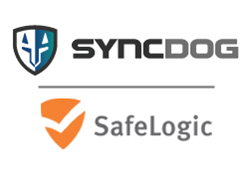 The SyncDog partnership now provides wider distribution of a defense-grade secure mobile container to public and private industry, as well as local, state and federal government.
Reston, VA (PRWEB) September 08, 2014
SyncDog, Inc. an industry-leading provider of enterprise mobility solutions, today announced a technology partnership with SafeLogic, a provider of innovative encryption products for applications in servers, workstations, appliances, and mobile devices. SyncDog, known for its SentinelSecure mobile security solutions, will feature SafeLogic's CryptoComply module at MobileCON, part of the Super Mobility Week expo in Las Vegas, September 9th-11th.
SyncDog's flagship product SentinelSecure provides mobile app containerization, active mobile server monitoring, mobile device provisioning and administration with end-to-end transaction monitoring. SyncDog has licensed SafeLogic's CryptoComply module for deployment on iOS and Android platforms, to provide FIPS 140-2 validated encryption in SyncDog's SentinelSecure container product. SyncDog will be taking orders for SyncDog SentinelSecure featuring CryptoComply at MobileCON in Las Vegas, with full integration for the combined product offering slated for October 1, 2014.
"FIPS 140 was established as a benchmark for encryption over 20 years ago, and it is now demanded by enterprise customers worldwide in addition to the government and military," said SafeLogic CEO Ray Potter. "The SyncDog partnership now provides wider distribution of a defense-grade secure mobile container to public and private industry, as well as local, state and federal government. We are proud to be a piece of the SentinelSecure solution."
"We are excited to be able to offer encryption that has been certified to the FIPS 140 standard," said SyncDog President and CEO Jonas Gyllensvaan. "We look forward to discussing this new development and other client work with our SentinelSecure product line at MobileCON in Las Vegas."
Gyllensvaan and Potter will be available to the media in the SyncDog booth (#7711) at MobileCON from 1:00-2:00 PM Pacific Time on Tuesday, September 9. A media advisory has been issued and can be accessed here for this editorial interview opportunity.
About SyncDog, Inc.
A mobile workforce fueled by BYOD is fast replacing traditional computing as the most complex work platform for IT professionals to manage. IT shops are now forced to support platforms running outside of their standard networks creating a nearly insurmountable dilemma for maintaining service quality and security.
SyncDog, Inc. offsets this burden in a comprehensive solution that manages pro-active mobile device monitoring, mobile device security, mobile application containerization, and compliance reporting. Our flagship product SyncDog Enterprise Mobility Platform solves the mobility service & security dilemma that keeps IT staff in the dark about service disruptions and security issues caused by malicious and careless users. With SyncDog Enterprise Mobility, IT administrators have the enterprise visibility to be proactive with application delivery and security giving them the freedom to focus on driving revenue to the organization.
The mobile workforce is the new enterprise norm and disruptions to mobile service delivery and system-wide security can be devastating to both revenue and reputation. SyncDog Enterprise Mobility is a powerful combination of low overhead and predictive intelligence for all of today's mobile platforms. Your network supports every transaction crossing it and SyncDog helps you understand it. More info: http://www.syncdog.com.
About SafeLogic
SafeLogic provides innovative encryption products for applications in mobile, server, appliance, wearable, and other constrained environments. Our flagship product, CryptoComply, provides drop-in FIPS 140-2 compliance with a common API across platforms, while our RapidCert process has revolutionized the way that certificates are earned. SafeLogic's customers include Symantec, Rockwell Collins, and Juniper among a growing list of the most influential and innovative companies in technology.
SafeLogic is privately held and is headquartered in Palo Alto, CA.
For more information about SafeLogic, please visit http://www.safelogic.com.