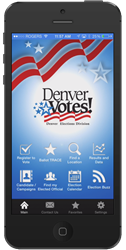 This app is another example of our commitment to innovation and enhancing the overall customer experience in the ever-evolving world of election administration - Amber McReynolds
Denver, Colorado (PRWEB) September 08, 2014
The Denver Elections Division today announced the release of the DenverVotes mobile applications for iPhone and Android. The application was designed to provide the citizens of the City and County of Denver with the latest voting information, access to voter registration tools, including Ballot TRACE and location enabled features to find their nearest Voter Service and Polling Center or 24-Hour Ballot Drop-Off Box.
"This app is another example of our commitment to innovation and enhancing the overall customer experience in the ever-evolving world of election administration," said Amber McReynolds, Director of Elections.
Candidates, campaigns and the media will enjoy the elections calendar feature that contains key dates including residency deadlines, when ballots will be mailed to voters, and when Voter Service and Polling Centers will open for every election. Voters can also use the app to get contact information for candidates and use the handy lookup to see contact information for their current elected officials. The DenverVotes app is also fully integrated with the Elections Division's social media accounts. Twitter, Facebook and YouTube can be viewed at the Election Buzz button.
Purple Forge, a leading provider of election and other citizen engagement mobile applications to cities, counties and governments in the US and Canada, provides the mobile application services for the Denver Elections Division. Purple Forge has deployed mobile applications to a number of smart cities and counties, including Buffalo, Ottawa, Long Beach and Sonoma County.
"The City and County of Denver continues in its leadership role of pursuing the digital engagement of its citizens," stated John Craig, VP Sales and Marketing of Purple Forge. "The DenverVotes app highlights how Denver continues as one of North America's smartest cities."
About Purple Forge
Purple Forge sells subscription based services to organizations looking to engage their stakeholders using the latest mobile application technology and leveraging community engagement and social networking best practices. Purple Forge is an award-winning firm led by seasoned mobile communications and Internet technology veterans. Our mobile applications allow organizations to broadcast, share, and receive feedback from their target audience real-time, allowing them to foster long-term, engaged relationships.
Contact: John Craig, john.craig(at)purpleforge(dot)com
About The Denver Elections Division
The Denver Elections Division provides comprehensive election services for the City and County of Denver.
Contact: Alton Dillard, Alton.Dillard(at)denvergov(dot)org