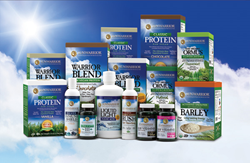 We're very happy to make the list for the third year in a row.
Saint George, Utah (PRWEB) September 10, 2014
Sunwarrior, a leading health and wellness company that makes raw vegan protein powder and supplements, is proud to announce they have been ranked in the top 5000 growing companies by the prestigious Inc. magazine.
Inc. magazine ranked Sunwarrior number 850 on its 33rd annual Inc. 500|5000, an exclusive ranking of the nation's fastest-growing private companies. Sunwarrior was ranked number 539 in 2013 and number 395 in 2012. The list represents the most comprehensive look at the most important segment of the economy—America's independent entrepreneurs. Companies such as Microsoft, Zappos, Intuit, Jamba Juice, Zipcar, Clif Bar, Vizio, Oracle, and many other well-known names gained early exposure as members of the Inc. 500|5000.
"We're very happy to make the list for the third year in a row," said Nick Stern, cofounder of Sunwarrior. "Our team and their hard work have put us on the map with Inc. 500 once again. I am very proud of the people I'm privileged to work with, the company we have built together, and the amazing products we create."
The 2014 Inc. 500 will be unveiled in the September issue of Inc. Complete results of the Inc. 500|5000, including company profiles and an interactive database that can be sorted by industry, region, and other criteria, can be found at http://www.inc.com/500.
About Inc.
Inc.com is where anyone can find everything they need to know to start and grow a business now.
They also publish Inc. magazine, which for more than 30 years has been the premier print publication for entrepreneurs and business owners. In 1982, they introduced the Inc. 500, which showcases the fastest-growing privately held companies in the United States. Twenty-five years later they expanded the list to the Inc. 5000 to help readers get a deeper understanding of the entrepreneurial landscape.
They host several Inc. Events, including the annual Inc. 500|5000 Conference & Awards Ceremony, which celebrates the Inc. 500|5000 and allows honorees, alumni, and other growth-minded entrepreneurs to learn and network.
Inc.com is replete with small business ideas, information, and inspiration, as well as practical advice from those who have done it before.
About Sunwarrior
Sunwarrior's mission is to illuminate body, mind, and planet. Sunwarrior relies on the original power from sunlight, captured by the wonderful plants found in nature, to change the way the world looks at fitness and nutrition.
Sunwarrior has grown rapidly since its inception many years ago at the Sedona Raw Food Festival. Sunwarrior now offers several raw, vegan products that are perfect for anyone and any lifestyle: two delicious protein powders to build muscle and speed recovery, activated barley for enhanced endurance, supergreens for probiotics, and liquid mineral complexes that nourish cellular function and boost the immune system with vital macro and trace minerals, like magnesium, iron, copper, selenium, and ionic silver.
Join them in their mission to share the health and healing energy from captured sunlight with everyone and truly transform the planet, one warrior at a time.
For more information about Sunwarrior visit http://www.sunwarrior.com. For more information about Inc. visit http://www.inc.com.