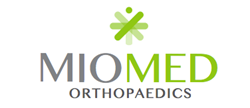 We're one piece of the puzzle that ties it all together to ensure the patient gets the best outcome…with just a single call.
Chicago, IL (PRWEB) September 09, 2014
Chicago-based MioMed Orthopaedics has recently partnered with ZipLine Medical, a Gold Winner in the 2014 Medical Design Excellence Awards for the Surgical Equipment, Instruments & Supplies category. The new Zip® Surgical Skin Closure is an easy-to-use device that reduces the risk of infection, makes the skin closure task simple, provides improved cosmetic outcomes and greater comfort when compared to sutures or staples.
Mark Sorensen, CEO of MioMed and an eighteen-year industry veteran providing products & patient services to Chicagoland orthopaedic surgeons, sports medicine professionals & hospitals understands just what is at stake when a patient has to recover from surgery. Sorensen, a former professional hockey player, knows first hand what it's like to rehab from an injury.
"From a logistics perspective, the way hospitals operate and deliver care to patients post surgery is a very meticulous, multi-step process that patients expect to be educated upon," said Sorensen.
In fact, there are so many moving pieces that must occur in order for a patient to receive necessary supplies for proper post surgical treatment & recovery. "We're one piece of the puzzle that ties it all together to ensure the patient gets the best outcome…with just a single call." said Sorensen.
MioMed's patient services platform provides surgeons the unique capability to meet the needs of the patients they serve across multiple settings including: the hospital, ambulatory surgery center, physician's clinic as well as the patient's home. When working with customers, MioMed continuously finds ways to intuitively combine the workflows of both the hospital & the clinical teams to create a frictionless process that leads to better patient outcomes.
About MioMed Orthopaedics, Inc.
Since 1996, MioMed has helped orthopaedic professionals deliver the best care to enhance patient mobility and physical function. Their expert team members collaborate closely with physicians as well as other clinical professionals to select products & services that deliver superior usability and ultimately enhance patient outcomes. Built on a strong cultural emphasis on customer service, they offer guidance, dependable clinical support, orthopaedic expertise & seamless patient management capabilities in order to enhance the patient experience. For more information please visit http://www.MioMed.com or schedule a call at info(at)miomed(dot)com.