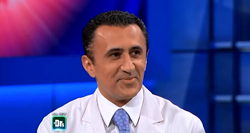 Los Angeles, CA (PRWEB) September 09, 2014
On August 2, 2000, Mindy Hodges's life changed the minute she stepped into an elevator in New York City. The elevator cable broke and Hodges fell 75 feet before the emergency brake held. The result was years of chronic pain and an abysmal quality of life. Then she met Dr. Sid Solomon, a Los Angeles neuromuscular dentist, and his treatment gave Hodges back her life.
Hodges's story was recently the subject of The Doctor's Show on NBC. It is the story of how Dr. Solomon's knowledge of temporomandibular joint disorder, commonly known as TMJ, was the answer to Hodges's daunting health problems.
After the fall, Hodges went through two back surgeries, had three disks removed, developed a severe case of gastro-paresis (stomach paralysis), suffered from chronic headaches and backaches, and was grinding her teeth heavily at night. She was on a feeding tube when she first stopped in Dr. Solomon's office for a routine dental visit.
Fortunately, Dr. Solomon's neuromuscular/TMJ expertise saw beyond Hodges's teeth and thought her jaw alignment could be the problem behind her other health issues. "We seek to find the optimal position for the jaw joint, capturing the three-dimensional space between the upper and lower jaw," Solomon explains of his TMJ diagnostic goals.
He created an oral orthotic that Hodges wears inside the teeth on her lower jaw. The orthotic brings Hodges's jaw forward and creates significantly more room, allowing her to breath more efficiently. The results were immediate and dramatic.
"When I wore the oral orthotic sleeping that first night there was a material difference in the amount of oxygen I was taking in," explains Hodges. "It was incredible." Her overall health has improved significantly. Her sleep has returned to normal, she is not grinding her teeth, and her gastro-paresis has disappeared.
Dr. Solomon is nationally known for his treatment of TMJ, a vexing condition that can cause migraines, headaches, neck and shoulder pain, jaw pain, ringing in the ears, and other problems and is often misdiagnosed by doctors and dentists.
In his three L.A. offices — the Center for Cosmetic, Implant & Neuromuscular Dentistry in West Los Angeles, Aesthetic Dental in West Hills, and Dental Wellness in Thousand Oaks — Dr. Solomon treats patients for tension headaches, neuromuscular alignment of the jaw and neck, and TMJ, along with offering a variety of cosmetic dentistry options.
To see The Doctor's Show piece, please visit http://www.timetosmile.com.