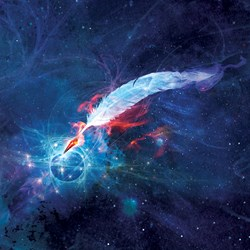 I'd been writing in the vacuum of my basement for 4 years, finished a few novels and short stories, and discovered the Writers of the Future contest from Orson Scott Card's writer's forum back in 2010
HOLLYWOOD,CA (PRWEB) September 08, 2014
Stories from around the globe arrive at the L. Ron Hubbard Writers of the Future contest and every quarter there are winners, finalists, semi-finalists and honorable mentions. Dustin Adams of the Catskill mountains of New York has earned several of the above titles including finalist. What sets Dustin apart from most writers is that he is now also selling to genre magazines and just made a sale to Andromeda Spaceways Inflight Magagzine with his story "Unlimited Power *," which is scheduled for a July 2015 release.
The story is about a man who trades his soul for superpowers, but when they run out, he is tasked, against his will, with recruiting others.
Dustin is a customs broker and business owner by day, and a writer in the shadows of pre-dawn's light. He is also an assistant editor for Writers of the Future Volume 25 winner Jordan Lapp's (Ellinger) online magazine, "Every Day Fiction."
In a recent interview Dustin stated, "I'd been writing in the vacuum of my basement for 4 years, finished a few novels and short stories, and discovered the Writers of the Future contest from Orson Scott Card's writer's forum back in 2010. People were talking about it, so I looked it up and anxiously took the plunge. So the first Honorable Mention was huge for me. It fueled the fire that's still burning brightly today."
One of the most known and respected vehicles for supporting new and fledgling authors is the world-acclaimed, free-to-enter global contest called L. Ron Hubbard's Writers of the Future, now in its 31st year. Created by international best-selling author L. Ron Hubbard, the merit-based Writers of the Future Contest was initiated to discover and encourage talented beginning writers of science fiction and fantasy. Quarterly winners of the Contest appear in the best-selling annual anthology, receive cash prizes, and attend an all-expenses paid gala awards ceremony and writing workshop. Dustin is still vying for that opportunity.
If you've been self-publishing and would like to break into the writing field as a traditionally published author, you have a golden opportunity to make it happen.
To learn more, including details on how to enter the contests, visit the website at http://www.writersofthefuture.com