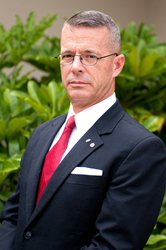 "What happened to Mr. Brown 34 years ago is an egregious miscarriage of justice," said Payne.
Wilmington, North Carolina (PRWEB) September 09, 2014
On Tuesday, September 2, 2014, Leon Brown and his brother Henry McCollum, were exonerated and released from prison after serving 30 years for a rape and murder they did not commit. New DNA evidence prompted Superior Court Judge Douglas Sasser to dismiss all charges against Brown, 46, and McCollum, 50. Both were originally sentenced to death for the 1983 rape and murder of 11-year-old Sabrina Buie in the Robeson County town of Red Springs. Brown's sentence was later sentenced to life in prison, but McCollum was North Carolina's longest serving inmate on death row. Both brothers are intellectually disabled and were teenagers at the time of their convictions. McCollum was 19, and Brown was 15. The case numbers for Leon Brown are: Robeson County, 83 CRS 15822 – 823, and Bladen County, 92 CRS 2492. The case numbers for Henry McCollum are: Robeson County, 83 CrS 15506-07, and Cumberland County, 91 CrS 40727. (Order for Relief)
McCollum and Brown were released on Wednesday, September 3rd, 2014, after they were processed out of the NC state prison system. During the Tuesday morning hearing, the N.C. Innocence Inquiry Commission detailed the results of new DNA testing of items found at the crime scene. The Commission found that none of the items matched McCollum or Brown. Instead, critical DNA evidence matched a different person, a convicted rapist and murderer who lived less than 100 yards from where Buie's body was found and is currently serving a life sentence for a similar rape and murder that occurred less than a month after Buie's death. (Order for Relief)
James Payne of James Payne Law of Wilmington and Ann Kirby of the Public Defender's Office in Pitt County represented Leon Brown in the hearing. Ken Rose and Vernetta Alston, attorneys at the Center for Death Penalty Litigation in Durham, represented McCollum. Lawyers for both men said the new testing leaves no doubt about their clients' innocence. Robeson County District Attorney Johnson Britt also acknowledged the strong evidence that supported McCollum and Brown's innocence, and said the state did not have enough evidence against either to proceed with a new trial. (Order for Relief)
"The evidence you heard today in my opinion negates the evidence presented in trial," said Britt in his closing statement before Judge Sasser.
The men's attorneys said they appreciated Britt's efforts to correct wrongs that occurred under the previous prosecutions. "We are most grateful to Johnson Britt, who has shown a strong desire to find the truth and to make sure that these two innocent men don't spend any more time in prison," said James Payne, Brown's attorney.
Payne was asked to represent Leon Brown by the North Carolina Commission for Indigent Defense Services, a state organization that provides legal representation to indigent defendants and others entitled to counsel under North Carolina law. Payne is chairman of the board of IDS.
"What happened to Mr. Brown 34 years ago is an egregious miscarriage of justice," said Payne. "The evidence was significant in breath and scope and could have very likely resulted in an innocent verdict if it had been introduced in the original trial."
In 1992, Brown's sentence was reduced to life in prison and his charge reduced to rape, but McCollum has remained on death row through decades of appeals. Ultimately, the N.C. Innocence Inquiry Commission took up Brown's case in 2010. The Commission ordered new testing and uncovered evidence that the men's attorneys had not been able to obtain, all of which points to McCollum and Brown's innocence. (Motion for Relief Based Upon PostConviction DNA Testing)
The DNA match with a different person was especially significant because, less than a month after Buie's killing, a young woman met a similar fate in eerily similar circumstances. Both crimes happened in Red Springs, a town of only 4,000 people. Both victims were sexually assaulted, asphyxiated, and left in fields wearing only a bra. Despite the similarities between the two crimes -- and the fact that this same person was charged with yet another similar rape and murder in Gastonia, North Carolina -- police failed to make the connection in Buie's murder.(Motion for Relief Based Upon PostConviction DNA Testing)
The only evidence that tied McCollum and Brown to the crime were false confessions that law enforcement obtained from the disabled teens, who even as adults have the intellectual ability of children. McCollum at first told police he knew nothing about the murder, but at 2 a.m. on Sept. 28, 1983, after five hours of intense interrogation, he signed a confession written by police. Hours later, his brother Leon Brown also confessed. (Order for Relief)
North Carolina law now requires homicide interrogations to be recorded or video taped, but at the time, no such laws were in place. There are no recordings of the confessions, which contain details that are factually impossible. (Motion for Relief Based Upon PostConviction DNA Testing)
McCollum and Brown were originally prosecuted jointly by Robeson County District Attorney Joe Freeman Britt, who earned the nickname "World's Deadliest DA" for winning nearly 50 death sentences during his 12 years as chief prosecutor. At that time, there were also no laws preventing the then-16-year-old Brown from being sentenced to death. (Motion for Relief Based Upon PostConviction DNA Testing)
In 1991, the North Carolina Supreme Court granted the brothers new trials, saying that the trial judge issued improper instructions to the jury. At Brown's new trial, the judge acknowledged that there was little evidence of murder, dismissing it. The jury, however, convicted Brown of rape. Brown received a life sentence. McCollum, however, was again convicted of murder and sentenced to death. In the years since their coerced confessions, McCollum and Brown have maintained their innocence. (State's Response to Defendant's Motions for Relief)
"I was honored to have the opportunity to defend Mr. Brown, " said Payne. "I believe that all defendants deserve a fair, thorough and vigorous defense, no matter what the charges. This is a fundamental right that is the basis for our judicial system. I hope that this case will spotlight the need for both prosecutors and defense attorneys to ensure this type of vigorous defense is provided for all defendants, particularly those facing capital murder charges." (Motion for Relief Based Upon PostConviction DNA Testing)
James Payne is a white-collar criminal defense attorney with offices in Wilmington and Shallotte, NC. Payne has more than 30 years of legal experience. His practice includes not only white-collar criminal defense, but also, military justice cases and capital murder trials. A 30-year veteran of the US Marine Corps Reserves, Payne served five years as a military judge. He has been interviewed on CNN and Bloomberg News and published in Lawyers Weekly. Payne has spoken before the NC House and Senate Joint Oversight Committee on Justice and Public Safety on criminal defense matters and on topics related to criminal law and white-collar criminal defense. (Motion for Relief Based Upon PostConviction DNA Testing)