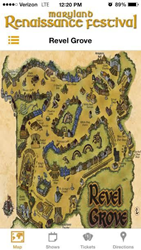 The app has so much information about parking, tickets, prices and entertainment schedules, we encourage you to download it at home where you have a strong signal. That way you'll be up and running when you get here!
Crownsville, MD (PRWEB) September 10, 2014
The Maryland Renaissance was one of the first Renaissance Festivals in the country to have a website and to aggressively embrace Social Media, and once again the region's premier outdoor event is in the forefront of technology with the release of its updated app.
"There are so many things to do and see at this 25-acre replica Tudor village, we were looking for a way to help our patrons find everything quickly. While we are aware of the irony of it all, an app was the natural solution," said General Manager, Jules Smith. "It can help people before they even get here, so we encourage people to download it at home where they have a good signal. People can view the entertainment schedule, get directions, see where to park and even buy tickets. Then when you get here, there's a very complete interactive map to help everyone get around easily."
Over 1,300 participants entertain over 300,000 guests annually with continuous live entertainment on 11 stages and theatres, 140 craft specialty shops, 42 food and beverage emporiums, games and a 3,000 Jousting Arena, the Maryland Renaissance Festival. All this makes the Maryland Renaissance Festival the second largest Renaissance festival in the country.
The free app can be downloaded from the iPhone App Store and Android Google Play Market. It is on the upgraded iOS platform optimized for iOS 7, and the android platform optimized for android 4.4.
Brad Bullard of LiF Marketing, the Baltimore based company that created the app adds, "to make it even easier for patrons to find the shows they want to see, we broke down the event schedule show times by stage. There is even a way to contact The Maryland Renaissance Festival."
The Maryland Renaissance Festival is open Saturdays and Sundays through October 19 and is located in Crownsville, MD