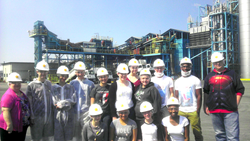 Hands-on, applied learning is critical to student interest in STEM and potential related careers. Grant funds like these allow teachers to go above and beyond classroom curriculum.
Gainesville, FL (PRWEB) September 11, 2014
The Consortium of Florida Education Foundations (CFEF), the membership organization for Florida's county-wide local education foundations serving 67 school districts, today announced it has received a grant for $50,000 as part of the "Innovation Generation Grant" program from the Motorola Solutions Foundation, the charitable arm of Motorola Solutions, Inc. Through the grant, the CFEF will enable member foundations to reach the next level of providing substantive, hands-on experiential learning opportunities outside the classroom that are directly linked to their coursework in science, technology, engineering and/or math (STEM).
The Innovation Generation program awards organizations such as the CFEF that foster and support STEM initiatives for teachers and U.S. preschool through university students – especially girls and underrepresented minorities.
"In 2007, the Motorola Solutions Foundation created the "Innovation Generation Grant" program to support instruction and educational experiences that spark young imaginations and turn their dreams into the innovations that will shape our future. Organizations like the CFEF are teaching tomorrow's workforce that careers in engineering and technology are not only fun, but also within their reach," said Matt Blakely, director, Motorola Solutions Foundation.
For additional information on the Motorola Solutions Foundation grants programs, visit http://responsibility.motorolasolutions.com/index.php/solutions-for-community/ and read about last year's projects through this program at the CFEF website.
About the Consortium of Florida Education Foundations
The CFEF is the membership organization for Florida's school district-wide local education foundations. Established in 1987, the CFEF seeks to advance student achievement in Florida by increasing private-sector investment and involvement in public education. The CFEF now has 58 member foundations with 1,100 business and community leaders serving as volunteer board members. Collectively, they raise more than $45 million annually to support students, teachers and schools through a variety of programs. The CFEF has provided more than $29 million to local education foundations since 2002 through various private and public sector partnerships, including the State of Florida School District Education Foundation Matching Grants Program.
About Motorola Solutions Foundation
The Motorola Solutions Foundation is the charitable and philanthropic arm of Motorola Solutions. With employees located around the globe, Motorola Solutions seeks to benefit the communities where it operates. The company achieves this by making strategic grants, forging strong community partnerships and fostering innovation. The Motorola Solutions Foundation focuses its funding on public safety, disaster relief, employee programs and education, especially science, technology, engineering and math programming. For more information on Motorola Solutions Corporate and Foundation giving, visit our website: http://www.motorolasolutions.com/giving.