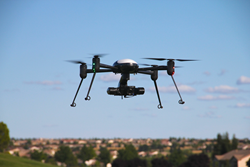 We are extremely pleased that Public Safety agencies are successfully using sUAS (small Unmanned Aerial System) technology.
Halifax, NS (PRWEB) September 08, 2014
Having become disoriented after four hours hiking in the woods, the lost family called the RCMP at 8:30PM on Saturday September 6th, 2014 to ask for rescue. The group consisted of a man, woman, child, and dog.
This occurred in a heavily wooded area in Nova Scotia, Canada northeast of Topsail Lake off of Highway 107 outside of Halifax.
A Draganflyer X4-ES UAV (Unmanned Aerial Vehicle) was used to locate the hikers with a FLIR Tau thermal infrared camera. This drone was used after sirens and K-9 units failed to locate the family.
Officers found the hikers and returned them to safety around 2:00AM Sunday morning.
Five of these drones have been recently purchased by the Nova Scotia RCMP. Real-time video is relayed from the drone and displayed on the screen of a phone or tablet, with the drone flown remotely by a hand-held controller.
The RCMP intends to deploy the drones for emergency response team calls, major crime investigations, search and rescue operations, and traffic scene reconstruction. A special certificate issued from Transport Canada enables the RCMP to operate these drones.
The first recorded life saved by a drone was also accomplished by a Draganflyer X4-ES helicopter operated by the RCMP on May 9th, 2013, when a driver injured in a single vehicle rollover was located using the thermal FLIR (Forward Looking InfraRed) camera payload after he had become unconscious in a wooded area 2 miles south of the rollover.
About Draganfly Innovations:
Draganfly Innovations, the longest running manufacturer of multi-rotor helicopters in the world and the maker of the first civilian small Unmanned Aerial System (sUAS) to be credited with saving a life, designs Draganflyer helicopters and Draganview control software. A recognized technology and industry leader, Draganfly shapes the aerial imaging and public safety revolution with its gyro stabilized camera payload systems and digital video down-link technology. Draganfly has reinvented the Unmanned Aerial Vehicle and is defining the emergency services market with the Draganflyer Guardian, and X4-ES systems. For additional information, contact Draganfly Innovations at 1-800-979-9794, sales(at)draganfly(dot)com, or check out their website at http://www.draganfly.com