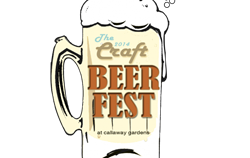 This festival is an all-you-can-taste extravaganza with more than 30 craft beers from 15 different craft beer vendors.
Pine Mountain, GA (PRWEB) September 08, 2014
Callaway Gardens® will host the first Craft Beer Festival* on Saturday, Sept. 13, at Robin Lake Beach from 1 p.m. to 4 p.m. This festival is an all-you-can-taste extravaganza with more than 30 craft beers from 15 different craft beer vendors.
"We're excited to offer this opportunity. The ticket to this one of a kind beer fest includes all the tastings one would like and four full beer tickets," said Andy Brown, director of recreation for Callaway Gardens. "We're changing it up from our normal wine events and trying a beer tasting."
Featured breweries include: Goose Island, Lonerider, Shock Top, Jailhouse Brewing Co., Red Hare, Monday Night Brewing, Red Hook, Kona Brewing Co., Lazy Magnolia, Jekyll Brewing, Anheuser Busch, Yuengling, New Belgium and more.
Additional beer tickets can be purchased for an additional cost of $5. Both Neil Lucas and the Barstool Prophets will be entertaining with live music so bring a chair or blanket to relax and enjoy the setting. Food will be available for purchase. And, college football will be on the Beach Bar televisions.
Tickets can be purchased in advance for $25 or at the gate for $30. In an effort to promote safe driving, Callaway Gardens encourages each guest participating to bring a designated driver. Designated drivers, children and patrons not participating in the drinking of the festival will receive a discounted admission price of $10. For tickets, visit http://www.callawaygardens.com or (800) 463-6990.
Want to make a weekend out of it? Reserve the Craft Beer Fest Package. It starts at $179** in the Mountain Creek Inn and includes admission to the beer festival and the Gardens for each day of stay and day of departure, accommodations, a shuttle from your accommodations, and a breakfast buffet in the Plant Room. To reserve your room, visit http://www.callawaygardens.com or call 1.844.463.6990.
Callaway Gardens is in Pine Mountain, GA, 60 minutes southwest of Atlanta and 30 minutes north of Columbus, GA. For additional information, call 1.800.463.6990 or visit http://www.callawaygardens.com.
###
*Event is Rain or Shine
**Rate is per night, based on double occupancy in a Non-View Room at the Mountain Creek Inn. Offer valid Sept. 12-14, 2014. Pricing also is available in the Southern Pine Cottages, Mountain Creek Villas and Vacation Homes. Tax not included. Based on availability. Other restrictions may apply.
About Callaway Gardens
For more than 60 years, Callaway Gardens has provided "a place of relaxation, inspiration and a better understanding of the living world" for millions of visitors. Owned and operated by the non-profit Ida Cason Callaway Foundation, Callaway Gardens includes a garden, resort, preserve and residential community on 6,500 acres in Pine Mountain, Georgia. Highlights include a butterfly conservatory, horticultural center, discovery center, chapel, inland beach, nature trails, a zip line/obstacle course and special events throughout the year.
In addition, Callaway Gardens offers nearly 80,000 square feet of meeting space, 689 guest rooms, restaurants, shops, golf, tennis, fishing and more.
Five unique, close-knit residential communities — with custom home sites, lakefront properties and cottages on the golf course — offer an ideal home away from home or full-time residence.
Callaway Gardens is home to a forest preserve which is under conservation easement. This conserved, sustainably-managed land is used for biological studies and environmental education programs.