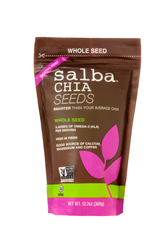 "We are treating this as a milestone for chia, for our company and the industry as a whole." -Rally Ralston, Salba Chia managing partner
DENVER, Colo. (PRWEB) September 10, 2014
The United Kingdom's Food Standards Agency (FSA) has given Salba® Chia a positive novel food opinion for its chia seeds. Following a rigorous review of data, Salba Chia seeds have been assessed to be equivalent to chia seeds already approved for market in the European Union, and granted the same status.
A novel food is a food or food ingredient that does not have a significant history of consumption within the European Union before 15 May, 1997. The popularity of whole seeds is opening doors in Europe for more novel, flavorful and lesser known types of grain. The newest star to emerge in the world of ancient grains is Salba Chia.
Salba Chia had requested an opinion from the FSA on the 'equivalence' of their chia seeds, which are grown in particular regions of South America, with the chia seeds marketed by The Chia Company that are grown in Australia.
The European Novel Foods Regulation incudes a simplified approval procedure that is applied when a company believes its novel food is substantially equivalent to a food that is already on the market. In such a situation, the applicant can submit a notification to the European Commission after obtaining an opinion on equivalence from an EU member state – in this case the UK.
Before any new food product can be introduced on the European market it must be rigorously assessed for safety. In the UK, the assessment of novel foods is carried out by the Advisory Committee on Novel Foods and Processes (ACNFP), an independent committee of scientists appointed by the FSA.
"We are treating this as a milestone for chia, for our company and the industry as a whole," stated Rally Ralston, Salba Chia's managing partner. "Introducing a nutritionally consistent chia seed product under FDA regulation is an arduous, technical and scientific process that takes substantial time and resources. We felt, however, that providing our seeds worldwide was paramount for our UK customers. Our in-house team worked tirelessly with the FSA to navigate the Substantial Equivalent process. We believe this achievement demonstrates our company's bandwidth in terms of regulatory compliance and we are committed to serving the needs of our distributors, retail partners and customers for the long haul," he noted.
Salba Chia seed is the only quality-certified chia on the market, grown under Good Agricultural Practices (GLOBAL-GAP) and carefully selected under GMP (Good Manufacturing Practices). It has also achieved HACCP (Hazard Analysis and Critical Control Point) international quality standards.
As a firm supporter of EFSA standards, Salba Chia will shortly unveil a new look for its product line which will position each brand as a category of food products that is culturally tailored to appeal to European consumers.
About Salba® Smart LLC:
Formed in 2006 by family farmers and manufacturers, Salba Smart is a whole foods company committed to quality, consistency, and sustainability from the ground up. Salba Smart strives to serve consumers and the environment through 'Performance with Purpose', making the highest quality whole grains and seeds available for use as ingredients and retail foods. These include Salba Chia, the most nutritionally consistent chia on the market. Salba Smart Natural Products, LLC is a privately held company headquartered at P.O Box 3009, Littleton, CO 80161. Tel: 303-999-3996. For more information, visit http://www.salbasmart.com or join the community on Facebook.