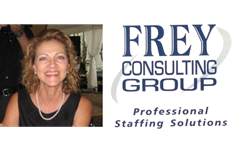 She's been in my local market for 25 years in IT placement and IT contracting. She's a known commodity in our area of work. - Kenny Frey
New Orleans, LA (PRWEB) September 24, 2014
The Frey Consulting Group has returned to information technology (IT) recruiting, adding a new recruiter to focus 100% on IT placements.
Established in 2000, the executive recruiting firm withdrew from the IT marketplace to focus more on the engineering and accounting sectors, Executive Recruiter/Owner Kenny Frey said. At the urging of clients, The Frey Consulting Group is once again taking IT placements, which already comprises 30-40% of the firm's business. New Executive Recruiter Susan Theard was hired exclusively to handle those job orders. Theard's experience prior to joining The Frey Consulting Group includes work for an Oracle Consulting Firm and running her own successful recruiting business.
"She's been in my local market for 25 years in IT placement and IT contracting," Frey said of Theard. "She's a known commodity in our area of work."
Reinstating IT recruiting services means the firm will be taking on more contract staffing placements. The project-based nature of IT makes contracting a key staffing component for many companies in the industry, especially in today's tight candidate market, Frey said.
"The IT market right now is much like it was in the late 90s," Frey said. "There are many more job orders than there are people to place in those jobs. Companies are looking for any solution to get those spots filled. A lot of my clients are looking to upgrade their equipment and need specialized staff that they won't need forever. They are looking to contractors to fill the need."
Contract staffing also fulfills the needs of many contract candidates.
"There are guys who have done contracting all their lives and love it," Frey said "Then there are guys who recently got laid off and they like the fact they can immediately get placed while they continue to look for other alternatives."
The Frey Consulting Group uses the contract staffing back-office services of Top Echelon Contracting, Inc. (TEC), which becomes the legal employer of the contractors. As such, they handle all the legal, financial, and administrative tasks associated with the firm's contract placements. These tasks include legal contracts with the client and contractor, the collection and tracking of timesheets, payroll processing and funding, background checks and drug screenings, employment paperwork, benefits administration, Affordable Care Act compliance, Workers' Compensation, and Unemployment.
The firm's reentry into the IT industry is a testament to their dedication to client satisfaction. Frey, who is approaching his 425th career placement as a recruiter, also points out the firm's longevity and one-year direct hire replacement guarantee. In addition to IT, they place professionals in engineering, manufacturing, insurance, human resources, accounting/finance, medical, and sales/marketing positions, leveraging their affiliations with several large, national networks, including Top Echelon Network.
"We've been in business for 18 years," Frey said. "We've made it through the highs and lows. We have a small client concentration, and 80% of our business is repeat business."