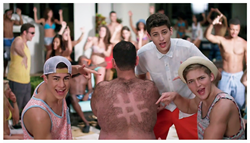 "When we heard '#Everything' for the first time, we thought it would be really fun to do a video about literally hashtagging everything," said Chase Heavener, the video's director and president of Fiction, an award-winning creative studio. "
ORLANDO, Fla. (PRWEB) September 09, 2014
With hashtags used for almost everything, boy band Far Young™ couldn't resist featuring that ubiquitous fixture of American teen lingo in its debut song "#Everything," released June 24.
Now, band members Eben Franckewitz, Jackson Owens and Christian Wossilek are taking the hashtagging concept to a whole new level in the song's music video, available for streaming at faryoung.com via YouTube and download on iTunes. Fans can also view the video through an online watch party tonight at 7 and ask the band questions via Twitter by including "#EverythingWatchParty."
"When we heard '#Everything' for the first time, we thought it would be really fun to do a video about literally hashtagging everything," said Chase Heavener, the video's director and president of Fiction, an award-winning creative studio. "The band is a really fun group of kids, and we wanted this video to reflect that."
Recognizing that hashtagging "can sometimes get out of hand," Heavener says the video takes a humorous jab at the trend, with a crazy dance and pool party theme that goes off the hashtagging deep end.
The video also features social media stars Brent Rivera, Hayes Grier, Jack Dail and Kayden Stephenson — each with more than a million followers, Rivera more than 5 million, across Vine and YouTube — and "#Everything" dance contest winner Margo Dominguez from Los Angeles.
Dominguez was among contestants from around the world who submitted videos of themselves performing the "#Everything" dance. The winning video was chosen by popular vote, and the prize was meeting Far Young and appearing in the band's "#Everything" video.
Fans have another chance to be part of the action through the "Crazy Hashtag" contest. From now until Sept. 16, fans can post their own crazy hashtag pictures and video to Twitter, Instagram and Vine with "#Faryoung #Everything #CrazyHashtag" for a chance to win prizes, including props from the "#Everything" music video shoot and other Far Young merchandise. At least one winner will be chosen every day Sept. 10-16.
About Far Young™
Eben Franckewitz, Jackson Owens and Christian Wossilek are Far Young™, the boy band assembled in early 2014 by Tim Coons, original music producer for the seven-time Grammy-nominated Backstreet Boys and executive vice president of Omicron Media Group, LLC. The band released its first original single, "#Everything," internationally in June and is currently in the studio recording its first album. Far Young has also performed throughout the United States at Playlist LIVE Orlando, which drew more than 35,000 attendees; TEENHOOT San Diego; The E.G.O. Tour at the House of Blues in Hollywood; the USA National Miss in Daytona Beach; the Miss America Meet and Greet hosted by ABC Television in Orlando; CreaTour Orlando; and SocialCon in Chicago. Performance dates and more information about the band are available at faryoung.com.
###