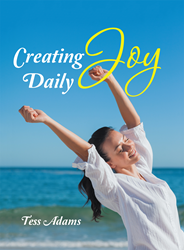 None of us have to settle! We have the power to create what we want in life through living intentionally
HALIFAX, Nova Scotia (PRWEB) September 09, 2014
In Shakespeare's "Hamlet," the restless and depressed prince, in spite of his angst, understands the importance of a positive attitude when declaring "there is nothing either good or bad, but thinking makes it so."
"I've heard many people who are disgruntled with their lives say, 'That's just the way it is. You learn how to deal with it,'" said life coach Tess Adams. "I disagree! None of us have to settle! We have the power to create what we want in life through living intentionally."
Adams has published a planner for people to create clarity, goals and intentions. Called "Creating Joy Daily," Adams gives users a one-stop resource for planning their days as well as their intentions. She has created this resource for people who lead busy lives, hoping to help them be organized, focused and joyful.
"The processes that are embedded in each day are purposeful. They give a framework and structure for making sure what is really important in life does not get ignored," said Adams.
Setting emotional intentions is a way that people can increase their stress tolerance and resiliency. The act of writing it down also provides users a way to hold themselves accountable to their schedules, keeping one's happiness and appointments right on time.
For more information, visit http://www.tessadamscoaching.com
"Creating Joy Daily"
By Tess Adams
ISBN: 978-1-4525-1047-9
Available in softcover
Available on Amazon, Barnes & Noble and Balboa Press
About the author
Tess Adams is a law of attraction life coach who specializes in helping her clients get unstuck in their lives, gain momentum and helping them feel empowered. Her services are usually directed to women who are going through great changes in their lives. In addition to being a life coach; she is an energy healer, emotional freedom technique practitioner, a radio show host, an artist, website designer, mother, stepmother, wife and musician. She lives with her family near Halifax, Nova Scotia.
# # #
**FOR IMMEDIATE RELEASE**
For review copies or interview requests, contact:
Matt VanScoik
317.602.7137
mvanscoik(at)bohlsengroup(dot)com