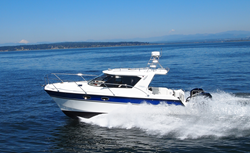 The timing of this new relationship just before a major show underscores the growing value of the ArrowCat brand.
Everrett, WA (PRWEB) September 30, 2014
In a significant move forward in the home U.S. market, ArrowCat Power Catamarans signs a Seattle based Demo Program less than two weeks after establishing the time record in Pacific Yachting Magazines Pacific Challenge, an open race against time around Vancouver Island, B.C.
This ArrowCat Demo Program follows the San Diego, CA program and is significant because it represents the only Pacific Northwest program for the international boat builder. A dealer network handles Australia and New Zealand.
This is the third program signed in North America since the programs announcement in January. This time the subject boat is again a 32-foot power catamaran with Mercury Verado 250hp outboard engines.
This Seattle Program will be launched and featured at the 2015 Seattle Boat Show. After the show it will be available in the Puget Sound for demonstration to media and prospective customers. The program is for one year and will be replaced for 2016. There are three programs available per market city, a 30-foot, 32-foot and 42-foot.
ArrowCat's Director of Factory Sales and Marketing, Travis Brandt, says "The timing of this new relationship just before a major show underscores the growing value of the ArrowCat brand. The Demo Program owner saw the concessions and future cash flow opportunity and decided to take advantage of the loaded deck for the 2015 Seattle Boat Show. We still have other opportunities in the 30-foot and 42-foot, but the 32 is a strategic position for ArrowCat because it represents the largest market growth."
President and Co-owner of ArrowCat, Kim Stebbens, says "The ArrowCat Demo Program replaces a dealer model that was dismantled by economy and the ongoing difficulty in financing of inventory for flooring lines. It's been accepted very well by the market although not all owners want to give up their ArrowCats for weeks at a time during boat show season. On the other hand, it works very well for those looking at the bottom line investment and a little hand holding during the first year of ownership."
About ArrowCat Power Catamarans
Since 2007, ArrowCat Power Catamarans has been a leading international NMMA Certified Manufacturer of 30-foot, 32-foot, and 42-foot power catamaran boats in CE category B, coveted for near offshore and rough water capability. Highly fuel-efficient, ArrowCats are handcrafted by ArrowCat Marine and have had proven success on seven seas and four oceans.
ArrowCat U.S. Base of Operations is located at 1205 Craftsman Way, Suite 111, Everett, WA 98201. For more information, visit http://www.ArrowCat.com or call (877) 277-6999.