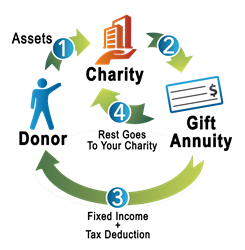 Gift Annuities designed for nonprofits and foundations of any size
Santa Barbara, CA (PRWEB) September 10, 2014
Introducing 'Legacy Charitable Gift Annuity'...Planned Giving Marketing Solutions introduces a new CGA program that is available to all nonprofits and foundations regardless of their size. PGMS uses a 'Single Premium Immediate Annuity' (SPIA) to fund the payout to the donor using the guidelines set by the 'American Council on Gift Annuities'. All annuities are from top rated A+ companies. The gift annuity is an agreement between the nonprofit and the donor with the nonprofit being the owner of the annuity.
For those donors with money in CD's earning a low yield and concerned about running out of money during their lifetime a CGA could be the perfect solution. They can convert those dollars into a much higher yielding Gift Annuity and receive payments for life, plus receive important tax benefits at the same time. For donors who have appreciated securities or appreciated assets that they would like to like to create an income stream a charitable gift annuity is a great way to satisfy their giving intentions and receive lifetime income on a tax preferred basis!
Benefits of 'Legacy Charitable Gift Annuity' to Nonprofits:
1) Charity does not have to wait for money
2) Charity does not have to invest the money
3) Charity is not at risk if donor lives too long
4) Charity's only administration is issuing an annual IRS1099R to donor
Benefits of Legacy Charitable Gift Annuity to Donors:
1) Convert low-yielding, or appreciated assets into a series of high tax advantaged lifetime payments
2) Satisfy the #1 concern of retirees: "Will I outlive my money"
3) Offset taxable income from other sources
4) Satisfy other financial needs by using increased cash flow generated from tax savings and partially tax-free payments
This CGA program is simple to set up and easy to maintain! Please visit our website for additional information.
Company Information:
Planned Giving Marketing Solutions was established in 2009 to provide online tools and materials to assist nonprofits, donors and advisors to come together to create major gifts from mid-donors. Our company is located in Carpinteria, CA a wonderful, small beach community a few miles south of Santa Barbara.