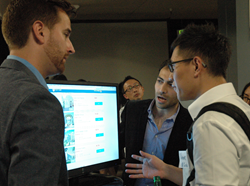 Sunnyvale, CA (PRWEB) September 18, 2014
For the first time, Silicon Valley Health 2.0 let the attendees determine the presenters at a special preview demo day event on Tuesday, September 16. Based on the event's success, the organizers, David Parpart, Director of Marketing at NavisHealth, and Akhsar Kharebov, Chief Evangelist at Validic, are preparing for an even larger demo day event on October 21. The event, held at the Plug and Play Tech Center, was sponsored by NavisHealth, Sprint Accelerator, and Plug and Play.
—Attendees Play Venture Capitalists—
Attendees received three pretend checks totaling $750,000 to invest in their favorite companies, giving them an active role in the event's outcome. There were two groups of winners: the Investors' Choice Awards, selected by Ivan Zgomba and Andras Toth from Plug and Play; and the Popular Company Awards, that received the greatest amount of funding from attendees. These winners also had the opportunity to present a pitch deck and have a Q&A with the audience, in addition to prizes provided by Sprint Accelerator.
—Expensive Healthcare Problems to Solve—
This demo day brought to light two expensive problems in healthcare:

non-adherence: people forgetting to take their medication
lack of cost transparency: difficulty finding out what the actual and out of pocket costs are for medical services.
Two of the winning companies address these problems: MediSafe, a medication management platform, and Statim Health, a search engine for cost and quality of healthcare.
—Keynote—
The keynote speaker was Matthew Holt, founder of The Health Care Blog in 2003, and co-founder of Health 2.0 in 2007. He shared his views on how the health tech industry changed between the birth of his children, noting that while certain technologies, such as electronic health records, have improved health care, there is still a long way to go in making healthcare more convenient, useful, effective, and safer.
"We saw a lot of great companies and were really pleased with the level of engagement at this month's demo day event," said Kit Sun, CEO of NavisHealth. "NavisHealth was proud to be a sponsor, and we're looking forward to supporting more great startups in October."
Investor's Choice Winners: MediSafe, Statim Health, and GeriJoy
Popular Company Winners: Statim Health, GeriJoy, and TapGenes
Companies that presented demos: Couple Care, ErgoMinder, GeriJoy, GroupHub, MediSafe, Peakfoqus, PokitDok, Statim Health, and TapGenes.
—October Demo Day Event—
Silicon Valley Health 2.0's October event will be held on Tuesday, October 21, at 5:45pm at the Plug and Play Tech Center.
About NavisHealth
NavisHealth (formerly Versaworks) is a Silicon Valley digital health information technology solutions and services firm, providing a cloud-based companion Electronic Health Record (EHR) with an integrated mobile application suite for hospitals. NavisHealth empowers patients and their health team with the information, applications, and technologies they want and need, resulting in more efficient, cost-effective, high-quality healthcare solutions.
For Additional Information, Visit:
http://navishealth.com/
pr(at)navishealth(dot)com
408-780-0230