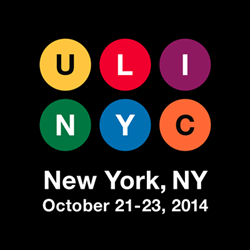 Washington, DC (PRWEB) September 09, 2014
Rethinking the how, what and where of urban development will be the focus of the Urban Land Institute's upcoming Fall Meeting, set for October 21-23, 2014 at the Javits Center in New York City. The program will focus on demographic, social, economic, environmental, and technology trends affecting land use, with an emphasis on three specific areas: industry leadership; building for health and wellness; and creating resilient communities.
Headlining the event are keynote speakers Jamie Dimon, chairman and CEO of JPMorgan Chase & Co., whose remarks will be on Tuesday, October 21; and Walter Isaacson, president and CEO of the Aspen Institute, former editor of TIME and former CEO of CNN, who will speak on Thursday, October 23. In addition, our speaker series includes Jennifer Lawton of MakerBot, who will speak about the creativity, innovation and possibilities being unleashed by the 3D printing revolution, and Vincent Stanley of Patagonia, who will share how the outdoor clothing and gear company has successfully built a brand that is immediately identified with a more active, healthier, and greener lifestyle.
Other can't-miss sessions include:

Daniel Doctoroff, president of Bloomberg, will discuss the infrastructure and financing challenges of key projects that have changed both the skyline and the landscape of New York City.
A panel featuring Joshua McClure, founder and chief executive officer at RealMassive; Chris Palmisano, senior account manager at Google; and Jake Seid, president of Auction.com will discuss how embracing the world of online information will revolutionize how CRE professionals will reach larger audiences faster and more effectively than ever before.
A panel of the industry's top experts discussing the Emerging Trends in Real Estate® 2015 survey results and offering insights on the future of real estate investment and development
As the largest of the institute's events and one of the industry's premier meetings, the annual ULI Fall Meeting routinely draws nearly 7,000 members and guests, including internationally renowned land use experts representing all land use disciplines. The meeting's real estate sessions are renowned for providing journalists with the most timely and relevant analyses of where the industry is heading, offering unprecedented access to some of the globe's most influential real estate leaders. The programming will focus on industry topics, including:
Building Healthy Places
Capital Markets
Demographics and Development Influencers
Trends in Retail Development
Real Estate Development Deals
Creating Communities Resilient to Climate Change
Global Markets and Innovation
Industry Product/Market Trends
Policy: Housing, Infrastructure and Planning
Click here for a full schedule of the Fall Meeting.
This ULI meeting, open to Institute members, the media, and the public, brings together the top thought leaders and practitioners for candid discussions about what works, what doesn't, and what's next for the industry. Join us in New York to hear prominent guest speakers, knowledgeable panelists, and attend content-rich real estate sessions. Request your complimentary press pass today!
Attendees with a press pass enjoy many benefits, including:

Entry to all concurrent sessions and keynote addresses
Access to the most influential leaders in real estate
Invitation to the Urban Land Magazine Cocktail Reception on the evening of October 22
Access to the ULI Press Room, equipped with complimentary Wi-Fi and workspace
NOTE TO REPORTERS AND EDITORS: Registration is free to members of the media; to register, please fill out this brief online press registration FORM.
About the Urban Land Institute:
The Urban Land Institute (http://www.uli.org) is a global nonprofit education and research institute supported by its members. Its mission is to provide leadership in the responsible use of land and in sustaining and creating thriving communities worldwide. Established in 1936, the Institute has over 32,000 members representing all aspects of land use and development disciplines.