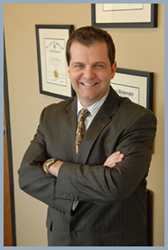 Burr Ridge, IL (PRWEB) September 08, 2014
This September is Self-Improvement Month and leading periodontist in Burr Ridge, IL Dr. Paul Denemark of Denemark Periodontal Specialists is bringing awareness as to how the LANAP® protocol, a minimally invasive laser gum surgery, makes it easier than ever before to achieve healthy gums and improve overall health. Laser gum treatment can give patients relief from red, swollen, or bleeding gums and also decrease the risk of many serious health issues such as stroke, heart disease, diabetes, and more.
It is the link between periodontitis and these other health conditions that makes seeking effective gum disease treatment from an experienced periodontist in Burr Ridge, IL important for residents in helping them maintain overall health and wellness. As with many issues, taking action when early signs of gum infection are seen can improve results. Bleeding gums are just one of these early symptoms. For people concerned about painful surgeries to address gum disease, Dr. Denemark is proud to offer the LANAP® treatment, a laser gum surgery that eliminates all incisions and sutures and has little associated discomfort to patients.
The LANAP® protocol makes use of the PerioLase® MVP-7™ laser which can vaporize diseased tissue without impacting healthy cells. This, in conjunction with the lack of cuts or sutures, delivers the dramatic drop in discomfort. It also prevents unnecessary loss of gum tissue which is needed to help stabilize the teeth. People who ignore the signs of periodontitis such as swollen or tender gums as well as bleeding gums can, therefore, increase their risk of adult tooth loss which can negatively impact functionality, diet, speech, and self-esteem.
People seeking a periodontist in Burr Ridge, IL who are concerned about the effects of ongoing gum disease are encouraged to schedule a visit with Dr. Paul Denemark to learn more about laser gum treatment and how they may benefit. He and his staff at Denemark Periodontal Specialists want to help patients find new and easy ways to let this September be the best Self-Improvement Month yet.
About the Practice
Denemark Periodontal Specialists is a periodontal practice providing personalized dental care for patients in Burr Ridge, IL. Dr. Paul Denemark received his Doctorate of Dental Surgery from the University of Illinois, College of Dentistry. He was a general dentist for six years prior to returning to school at Indiana University School of Dentistry to earn his Master of Science in Dentistry degree and research qualified certificate in Periodontics. Because of his expertise in dental anatomy, he was appointed as a Deputy Coroner for DuPage County, Illinois. He previously held the position of Clinical Periodontics instructor at the University of Illinois at Chicago, College of Dentistry. Dr. Denemark belongs to the one percent of dental professionals currently providing the LANAP® protocol, the first FDA-cleared laser procedure for gum disease and periodontal treatment. To learn more about the dental services available at Denemark Periodontal Specialists, please visit http://www.drdenemark.com or call (630) 297-4999.