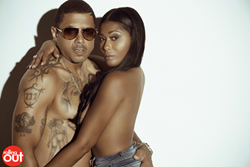 As far as doing stuff naked, we never did this before. This was a once in a lifetime experience. The nude look was crazy!"
Atlanta, GA (PRWEB) September 13, 2014
Reality television.
It provides an audience with a fly-on-the-wall glimpse into the supposedly "real" lives of its subjects. It's the kind of fishbowl entertainment that demands the participants in front of the camera be willing to expose themselves; their most insecure and petty selves, to the world at large. "Love & Hip Hop Atlanta" stars Althea Heart and Benzino should be used to that kind of nakedness. But today, they're trying out a different, slightly more literal, kind of nakedness: as they bare all for Rolling Out's camera, in an exclusive photo shoot.
As a follow up to our cover titled 'Benzino and Althea: Sex, lies and Stevie J,' Rolling Out's resident photographer DeWayne Rogers has revealed some never-before-seen photos of the engaged couple.
Visit rollingout.com to check out the exclusive photo shoot.
About Rolling Out Magazine:
Rolling Out, the nation's largest free urban weekly, is a digital and print magazine that focuses on the black experience in response to entertainment, politics, fashion, culture, sports and lifestyle points of interest. Headquartered in Atlanta, Rolling Out is positioned as the voice for the African American experience, using its newspaper as a platform in the marketplace to express urgency for education reform, and to document entrepreneurial endeavors and other relevant issues in the Diaspora. For information on rolling out, please log on to rollingout.com.