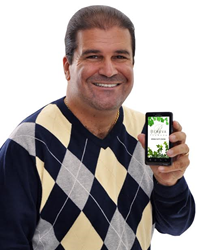 With this free app customers choose from their local florist's assortments and the order form completes itself, saving time and eliminating errors.
Sarasota, Florida (PRWEB) September 11, 2014
A new, free smartphone app is changing the way people and businesses buy flowers. Created by successful florist Arthur Conforti of Beneva Flowers & Gifts, Floralapp provides location-based benefits and offers from local florists.
After initial registration, the app opens for immediate use. Customers choose from their local florist's assortments and specials and the order form completes itself, saving time and eliminating errors.
Floralapp provides many customer advantages, including:

No username or passwords to remember
Sending flowers from the user's smartphone address book
Order confirmation via email
Special offers and local coupons
Free for both iPhone or Android devices
Many florists are offering a 10% discount on all Floralapp orders as an incentive for their customers to experience the ease and satisfaction of ordering with the app. Floralapp customers will never be hassled by third-party advertisements.
Custom created for flower shops, Floralapp is the most widely used app in the floral industry. Floralapp is approved and endorsed by Teleflora, the world's leading flower delivery service connecting customers with the nation's best local florists for over 75 years.
Users simply open the app, browse the available flowers and gift items, select their desired product, write a custom card message, select their recipient from their phone's address book, choose their payment method, and submit! Floralapp offers the convenience of multiple payment methods, including PayPal® and house accounts, eliminating the need for your purse or wallet.
"Floralapp is a flower shop in your pocket," says Conforti. "Instead of calling a national 800 number, you can now use your local florist who is more motivated to serve you and keep you as a loyal customer. You get a local experience no matter where your delivery is going. Soon, when you drive past your local florist, you'll get notified of special discounts and other offers available exclusively in your area."
Conforti's Beneva Flowers in Sarasota, Florida, has been in business since 1987, and he is recognized as a pioneer in the floral industry for his innovative use of technology and software applications.
Customers interested in trying Floralapp can ask their local florist for the free app, or download directly from the Google Play Store or App Store. Florists wanting to participate with Floralapp can visit http://www.Floralapp.com to learn more, or contact Arthur Conforti at 941-308-3117.
About Floralapp
Floralapp is a new, free, easy to use app that simplifies the process of sending flowers across town or the USA. Customers never have to log in or remember passwords. One click calling to local florists makes it convenient and simple to place orders and pay. One app does it all. More information at http://www.Floralapp.com.