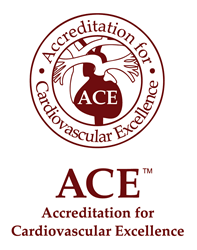 Our mission as healthcare providers is to deliver exceptional quality and cost-effective care that is individualized for the needs of each patient to achieve the optimal clinical outcomes. -- Sheree Schroeder, ACE Director of Quality Review Services
Washington, DC (PRWEB) September 09, 2014
September marks a busy month of leadership in cardiovascular quality from the Accreditation for Cardiovascular Excellence (ACE), beginning with a feature article in Cardiovascular Business magazine. Sheree Schroeder, MSN, RN, RDCS, FASE, ACE's Director of Quality Review Services, published the article, "No Margin, No Mission: A Team-Based Approach to Cath Lab Billing," in the September/October 2014 issue.
"Our mission as healthcare providers is to deliver exceptional quality and cost-effective care that is individualized for the needs of each patient to achieve the optimal clinical outcomes," Ms. Schroeder writes in the article. "To achieve this mission, we need margins that will allow us to keep our doors open."
To learn more about ACE's insights on better documentation and billing practices that allow catheterization laboratories to secure reimbursement, avoid denials, and protect diminishing margins, read the full article here.
ACE is also proud to announce the participation of ACE Board Members at the 2014 Transcatheter Cardiovascular Therapeutics (TCT) Annual Meeting in Washington, DC, September 13-17, 2014. Presented in partnership with the American College of Cardiology (ACC), TCT is the world's largest educational meeting specializing in interventional cardiovascular medicine.
Charles E. Chambers, MD, FSCAI, President-Elect of the Society for Cardiovascular Angiography and Interventions (SCAI) and ACE Board Members, will provide an overview of the SCAI Cath Lab Boot Camp, a unique two-day educational event designed to address the needs of cath lab managers and directors and those who aspire to those roles, as part of the "Hot Topic Lunch: The SCAI Cath Lab Leadership Boot Camp" event (Sat, Sept. 13; 12:15-1:45 PM, Level 2, Room 208A/B). Dr. Chambers will also participate as a discussant in the "Hot Topic Lunch: Cath Lab Directors Lunch" (Sun, Sept. 14; 1:00-2:00 PM, Level 1, Room 145A).
During a special session co-sponsored by SCAI, "Eyes on Quality: How to Implement Quality Control Into Your Daily Practice," ACE Board Vice Chair Ralph G. Brindis, MD, MPH, MACC, FSCAI, will present on "Public Reporting: What You Need to Know" (Mon, Sept. 15; 12:00-1:00 PM, Level 1, Room 149B). Dr. Brindis will also serve as a discussant for Plenary Session V: Late-Breaking Clinical Trials #1 (Sat, Sept. 13; 11:00 AM – 12:00 PM, Level 3, Ballroom).
Be sure to stop by the ACE booth (#2255) for the most current information on our quality programs and follow ACE's coverage of TCT 2014 on Twitter (@ACE_CVEXCEL).
About Accreditation for Cardiovascular Excellence (ACE)
ACE is the global leader in accreditation and external quality review services for all catheter-based cardiovascular procedures. ACE, an independent organization sponsored by the Society for Cardiovascular Angiography and Interventions (SCAI) and the American College of Cardiology Foundation (ACCF), offers independent evaluation and monitoring of facilities that provide cardiovascular care. By reviewing facility and operator performance and comparing clinical decision-making to nationally accepted best practices, ACE quality review and accreditation services play a critical role in continuous quality improvement programs. Join us. Let us exceed your expectations and provide a free consultation. Contact ACE at info(at)cvexcel(dot)org or call our office at 202.657.6859 or visit our website at http://www.cvexcel.org.