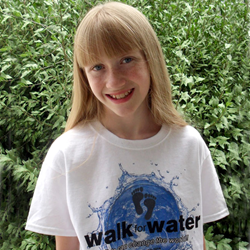 I have seen that helping one person helps many people. - Jennifer S.
Kansas City, KS (PRWEB) September 09, 2014
A staggering 783 million people in the world today lack access to clean water. Eleven-year-old Jennifer Stuckenschneider is ready to tackle a portion of this problem by hosting a walk to raise $11,000 for Unbound's Health fund.
"I have seen that a little bit of money goes a long way," Jennifer said. "I have seen that helping one person helps many people. I have also seen that having clean water means many changes in people's lives. I would like to help everyone have clean water, but it takes many people."
Jennifer is an Unbound Trailblazer and will host the walk in her hometown of Grand Junction, Colo., at the Holy Family School field.
Friday, Sept. 19, 2014
2:15 p.m. – Holy Family School students
4:15 p.m. – All other schools in the area
786 26-1/2 Road
Grand Junction, CO 81506
Kids ages 4-18 from all public and private schools in the area, who have registered, are welcome to walk around the Holy Family School track. Halfway around, walkers will receive a gallon jug of water to carry home to their families so they can experience in part what some kids around the world have to do to get water.
Participants are asking family and friends to sponsor them in the walk. All proceeds from Walk for Water will go to support Unbound's Health fund.
Donations to the fund will help provide wells and filtration systems so families can drink clean water, construct sanitary toilets, reduce waterborne illnesses, participate in hygiene education, and for those affected by HIV/AIDS have access to nutrition supplements and vitamins.
"I am doing my best, and I am also showing the kids in my town that we can make a difference," Jennifer said. "[The kids] will experience what others go through, and in solidarity, kids will help kids. If this walk is a success, I want to have a bigger walk next year. We will walk and keep on walking until everyone has clean water."
Unbound is the largest nonprofit in Kansas with more than $120 million in annual revenue. We work directly with more than 325,000 children, families and the elderly in 21 developing countries as they confront the challenges of poverty and work toward a better life. Unbound distributes direct aid as quickly and efficiently as possible to people who need it. More than 93 percent of all the money Unbound spends goes to program support.
#