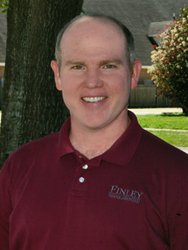 Lafayette, LA (PRWEB) September 08, 2014
Local residents are encouraged to take advantage of this month's designation as Self-Improvement Month to undergo the minimally invasive receding gums treatment in Lafayette, LA known as the Chao Pinhole Surgical Technique™ (PST™) from Dr. James M. Finley of Finley Periodontics. Gums can recede when periodontal disease progresses and the exposed tooth root areas can become sensitive and even cause teeth to be lost, making the ability to restore gum levels without cutting or stitching extremely beneficial to patients.
Periodontal disease, also called periodontitis but commonly referred to as gum disease, is essentially a bacterial infection in the gums. The infection can eat away important gum and bone tissue, leave roots exposed, and put the stability of the teeth in jeopardy. Historically, the most common form of receding gums treatment in Lafayette, LA has been the gum graft. This is a procedure in which the dentist cuts healthy gum tissue from one part of the mouth and grafts it in place with stitches to the area with recession. Many people have avoided this process due to the discomfort and recovery time involved. PST™ renders these factors a distant memory.
PST™ does not use any scalpels or stitches but instead relies on special tools that are used to carefully stretch gum tissue over exposed teeth until acceptable levels of gum tissue are met. The procedure is very quick, and multiple teeth can usually be treated during one office visit. The results from PST™ can be seen and enjoyed instantaneously and the discomfort to patients is generally minimal. By offering residents this option for receding gums treatment in Lafayette, LA, Dr. Finley showcases his leadership and commitment to patient care and comfort. Dr. Finley is one of the first dental professionals to effectively use this procedure to restore the health and beauty of patients' smiles.
People who are interested in using Self-Improvement Month as their motivation to address the effects of periodontal disease should contact Dr. James M. Finley of Finley Periodontics today. A consultation with Dr. Finley can outline how patients may once again enjoy their smiles with minimal office visits and little discomfort. Today's dental advances offer the ability to save teeth and smile big without needing to endure painful surgeries.
About The Doctor
Finley Periodontics is a periodontal practice offering personalized dental care for patients in Lafayette, LA. Dr. James M. Finley received his D.M.D from the University Of Mississippi School Of Dentistry and his certificate in Periodontics from Louisiana State University School of Dentistry. He went on to earn his M.S. in oral biology from Louisiana State University while serving as a full time assistant professor. Dr. Finley is part of one percent of dental professionals providing the LANAP® FDA cleared laser procedure for gum disease and periodontal treatment. To learn more about Finley Periodontics and their dental services, visit their website at http://www.finleyperio.com and call (337) 504-7263.