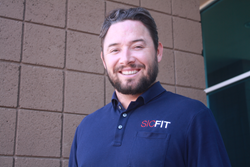 "Four years ago I began a life transformation that has dramatically impacted much more than my physical health...The opportunity to help others make similar changes will be extremely rewarding," SICFIT Chandler Co-Owner Nathan Atchison.
PHOENIX (PRWEB) September 09, 2014
Global fitness brand SICFIT (http://www.SICFIT.com) is expanding its Arizona presence and opening another SICFIT Gym at the Ice Den http://www.coyotesicechandler.com in Chandler, Ariz. this October. Nathan Atchison is SICFIT Chandler's operator and will co-own the gym with SICFIT CEO Najla Kayyem and SICFIT's Vice President and Creative Director Luke Kayyem. This will be the second SICFIT location to open in the state – and fourth nationally – for the rapidly expanding fitness brand.
"This is a tremendous opportunity to partner with the Ice Den Chandler and offer SICFIT's integrated approach to fitness for its athletes and nearby Chandler residents," said Najla Kayyem, SICFIT CEO. "Our focus on helping youth and adults reach their individual health and fitness goals, rather than making them subscribe to a specific style, will resonate with those that regularly visit the popular East Valley destination."
SICFIT Chandler will be located in a 3,200 square-foot space inside the main entrance of Ice Den Chandler. Atchison and his team will offer SICFIT's full line of Life, Fitness and Sport classes, including dry-land training for youth and adult athletes that frequent the hockey and skating rink. Atchison, a former multi-sport athlete (including hockey), is eager to share the SICFIT philosophy with Chandler individuals and families as they look to improve health and wellness.
Michael O'Hearn, President of the Ice Den Chandler and Scottsdale shares, "When researching potential fitness partners SICFIT stood out to us as an ideal partner to join us in Chandler. Their innovative programming and dedicated leadership exemplifies and compliments the culture and quality associated with the Ice Den community. We are proud to offer our athletes, coaches and families access to the SICFIT philosophy, and look forward to welcoming SICFIT members to our building."
SICFIT gyms across the United States are designed to enhance the lives of their students through educated coaching, nutritional counseling, challenges, seminars, level testing and community events. SICFIT's three levels of training and nutrition are the backbone of its exercise philosophy simply described as LIFE l FITNESS l SPORT. Its goals are to improve quality of life and help students become better than they were the day before.
"Four years ago I walked into Luke and Najla Kayyem's Scottsdale gym and began a life transformation that has dramatically impacted much more than my physical health," said SICFIT Chandler Co-Owner Nathan Atchison. "The opportunity to help others make similar changes will be extremely rewarding."
SICFIT faculty and coaches are trained in a variety of areas and have experience ranging from personal training, Olympic Weightlifting, yoga, nutrition, life coaching, volleyball, kids, tweens and teens programming, CrossFit, human performance racing, professional and collegiate sports, endurance, martial arts and gymnastics.
The Ice Den Chandler is an 86,000 square foot ice-skating and entertainment facility that houses two NHL-regulation sized skating rinks. Annual programming includes Learn to Skate classes, figure skating, youth hockey at the house and travel levels, adult hockey and public skating. They also plan to open a full-service restaurant and café, similar to their North Scottsdale location, in the next few months.
Employment opportunities are now available for SICFIT Chandler and the SICFIT corporate team. Resumes and a short video should be emailed to info@SICFIT.com for consideration.
To learn more about SICIFT gyms across the United States, its fitness competitions in Scottsdale and Maui or to gain access to its internationally shared social media network visit http://www.SICFIT.com
###
About Ice Den Chandler
The Ice Den Chandler acquired in January 2014, is an 86,000 square foot ice skating and entertainment center located on West Harrison Street just east of the I-10 off Ray Road. The building recently reopened after a 4-month, estimated $6 million renovation. The building feels brand new and now features two completely rebuilt ice surfaces. In addition, renovations to the lobby include flooring and lighting enhancements, video screens, spectator seating and a retail shop for hockey and figure skaters. In October 2014, new amenities including a fitness center, restaurant and café will open as well.
About SICFIT:
SICFIT is a global lifestyle fitness brand and social network that showcases fitness from "push-up to podium" (first-time athletes to serious competitors). The SIC in SICFIT represents Strength In Conditioning and the brand includes gyms, competitions, retail, photos, videos and an online networking platform for fitness enthusiasts to connect on SICFIT.com
SICFIT hosts two high-profile fitness competitions each year, "SICest of the Pacific West", on Kaanapali Beach, in Maui each summer, and SICest of the Southwest in Phoenix each fall. SICFIT has recently expanded to include licensed gyms in Arizona, California and Texas.