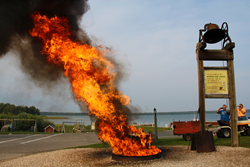 Door County Restaurant Week will offer visitors a special opportunity to sample some of the county's best restaurants with specially designed breakfasts, two-course lunches and three-course dinners.
Door County, WI (PRWEB) September 09, 2014
As summer turns to fall, Wisconsin's bucolic Door County peninsula prepares for a celebration of culinary proportions complete with fresh local produce, bustling farm markets, foodie tours and harvest festivals set amidst a backdrop of beautiful fall colors.
A seven-week celebration, called So Delicious So Door County, explores all that is delicious on this 70-mile long sliver of land that juts into Lake Michigan. Visitor opportunities include traveling the Door County Wine Trail to sample selections from eight local wineries; sampling "Made in Door County" products such as locally caught and smoked fish; tasting products made of locally grown cherries and apples at over 30 local markets and specialty food stores; attending a cooking class; or picking your own pail of crunchy apples at a local orchard. View even more opportunities in a special menu available online from the Door County Visitor Bureau.
Part of the 2014 celebration includes the inaugural Door County Restaurant Week, which will take place September 13-20, and offer visitors a special opportunity to sample some of the county's best restaurants with specially designed breakfasts, two-course lunches and three-course dinners.
Door County Restaurant Week is an eight-day event in which more than 20 participating restaurants will be offering prix fixe breakfast, lunch and/or dinner menus allowing diners to discover new restaurants or enjoy special menus at their favorite spots. Participating restaurants and their menus can be found on a special Door County Restaurant Week web site, http://www.doorcounty.com/dcrw.
One not-to-miss culinary tradition on this peninsula is the Door County Fish Boil. Served by a number of restaurants, this popular meal features locally caught Lake Michigan whitefish, potatoes and onions cooked outdoors in a large kettle of salted water over a roaring wood fire. At just the right moment in the cooking process, kerosene is tossed into the fire beneath the pot, exciting the flames into a picturesque dance called the boil over. Dinner is ready! A slice of cherry pie, made with locally grown tart cherries, tops off this delectable meal.
The deliciousness of Door County isn't just limited to taste: the other four senses can also get in on the fun. Award winning professional theater, over 100 studios and art galleries and live music opportunities provide both visual and auditory refreshment. The pleasant aromas of freshly baked goodies wafting from area bakeries or the memorable fragrance of fall treats served up at community harvest festivals keep the sense of smell smiling. While the feel of a cool fall breeze off the lake or the crunch of leaves under foot on an afternoon hike ensures inclusion for the sense of touch, too.
Seasonally themed lodging packages are available to help make planning a visit to this popular Midwest vacation destination easy. Inns, B&B's, hotels and resorts offer culinary themed packages that include lodging, dining, special extras and a $25 Door County gift certificate. View available packages and travel information at DoorCounty.com or call 1-800-527-3529 for personal travel planning assistance.
Door County is a bucolic peninsula that juts into Lake Michigan in the northeast corner of Wisconsin. One of the top leisure travel destinations in America, Door County features 300 miles of shoreline, 34 named islands, 11 lighthouses and 5 state parks. It is known for its natural beauty, artistic offerings, outdoor recreation and local cuisine and offers scenic seaside experiences in the heart of the Midwest.