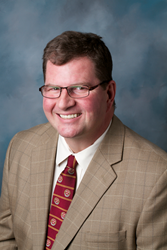 Chester, NJ (PRWEB) September 08, 2014
This fall, Dr. Thomas Bissell began teaching as a Clinical Assistant Professor at Rutgers School of Dental Medicine. Throughout the semester, Dr. Bissell will teach courses in the periodontics department for both dental students and residents. In addition to teaching, he will continue working as a Chester, NJ, periodontist, providing patients with treatments to address gum disease, gum recession, and tooth loss, as well as other dental procedures.
The new position as Clinical Assistant Professor represents a return to teaching for Dr. Bissell, who previously taught periodontics courses for pre-doctoral and post-graduate Harvard University students over a three-year period. When he accepted the position at Rutgers School of Dental Medicine, Dr. Bissell joined the only dental school in New Jersey and one of only two public dental schools in the New York metropolitan area. Dr. Bissell's new students will benefit from his expertise, for which has garnered recognition in the past. In 1995, the Harvard School of Dental Medicine honored Dr. Bissell with the James H. Shaw award for Excellence in Biomedical Research. Dr. Bissell was also the first person named as a Hein Scholar at the Forsyth Dental Research Institute.
Outside of teaching, Dr. Bissell will continue providing treatment to those who require the expertise of a Chester, NJ, periodontist. Dr. Bissell helps his patients protect their smiles and oral health with gum recession treatment and the LANAP® protocol, which is a minimally invasive laser gum disease treatment. These procedures can help patients avoid infections, tooth loss, and even systemic health problems associated with poor oral health. To assist people who have already lost teeth, Dr. Bissell offers dental implants, which are placed in the jaw to permanently replace a single tooth or an entire arch of teeth. Dental implants offer an attractive cosmetic appearance and help stabilize bone density and tooth alignment, which makes them a healthy long-term solution.
Despite his new obligations as a Clinical Assistant Professor, Dr. Bissell still makes time for new and returning patients and encourages patients to act quickly on concerns about their oral health. Anyone who needs to schedule a consultation with a Chester, NJ periodontist about receding gums, gum disease, missing teeth, or other periodontal health issues is encouraged to call Dr. Bissell's office to schedule a consultation.
About the Doctor
Bissell Periodontics and Dental Implants Center of New Jersey is a periodontal practice offering personalized dental care for patients in Chester, NJ. Dr. Bissell received his Doctor of Medical Sciences Degree at Harvard Medical School and his Postdoctoral Certificate of Periodontology at the Harvard School of Dental Medicine. He belongs to the one percent of dental professionals currently providing the Laser Assisted New Attachment Procedure (LANAP®), the first FDA-cleared laser procedure for gum disease and periodontal treatment. To learn more about Bissell Periodontics and Dental Implants Center of New Jersey visit their website at http://www.drbissell.com and call 908-955-5999.