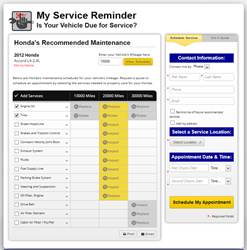 My Service Reminder will not only help our dealers be found online when consumers are searching for auto service and maintenance terms but it will be a resource for consumers that sets our dealers apart from their competition.
Cookeville, TN (PRWEB) September 09, 2014
TCS Technologies, leading provider of tire and automotive service dealer websites and digital marketing services, today announced the new website module My Service Reminder, a new way for dealers to quote and schedule vehicle manufacturer recommended services on their websites. My Service Reminder is aimed to help dealers sell more high-margin, low-comeback preventative maintenance services. As website visitors enter their vehicle and mileage, the website will present manufacturer recommended services for the current, previous, and future scheduled intervals nearest to their current mileage. From the dealer's website a consumer can select the service operations they would like to request a price quote on or schedule the services. Users will be emailed the recommended maintenance and have the opportunity to sign up for future reminders.
"According to Google, 43% of drivers perform a search online when deciding where to take their vehicle for service. In an industry where there are no clear winners, it's critical to be the resource of choice when drivers are researching online for service recommendations. My Service Reminder will not only help our dealers be found online when consumers are searching for auto service and maintenance terms but it will be a resource for consumers that sets our dealers apart from their competition." Remarked Barry Reese, TCS President. "With over 40 million recalls this year, preventative maintenance, now more than ever, is on the mind of the consumer. In addition, independent dealers face the massive barrier of the myth that factory recommended maintenance can only be performed by the OE dealership. As My Service Reminder launches and evolves throughout 2014, it will be another way TCS is partnering with the independent dealer to overcome these obstacles and keep drivers coming back through their doors."
Vehicle/Mileage Specific Search Functionality:
My Service Reminder allows the consumer to shop for preventative services by vehicle and request a quote on multiple services in a single click. The same proven methodology TCS uses to promote tire
sales via an intuitive and dealer customizable online catalog is now being leveraged to enable consumers
to shop for vehicle specific preventative maintenance.
Generate Repeat Customers:
My Service Reminder creates a valuable consumer resource for 'glove box' service interval information,
thereby generating more online and in-store traffic for independent tire dealers and automotive repair shops. According to Google, 73% of drivers would return to a service center they visited for preventative
maintenance for future large repairs. The goal is to help consumers take better care of their vehicles reducing the chance of costly breakdowns while at the same time creating more repeat business for dealers.
Print, Email, Quote & Schedule Preventative Maintenance:
As online visitors research the maintenance due on their vehicle, they can choose to print or email the list of recommended services, request a quote or schedule an appointment for specific services.
Be Found When Drivers Are Searching Online:
Online searches for auto maintenance has grown 66% in the last three years. My Service Reminder allows dealers to be the digital resource in their market when drivers are searching for how to care for their vehicle.
Jon Boyd, Tire Business Manager of Boyd's Tire & Service Center remarked about the product. "This addition to our website is in alignment with our in-store strategy of making every customer aware of when and how to take care of their vehicle, ultimately improving car count and customer retention. Consumers tend to think they should go to the car dealership for factory scheduled maintenance. My Service Reminder is a great asset for Boyd's as we help consumers realize that we are qualified and capable to perform factory scheduled maintenance." My Service Reminder can be found on Boyd's Tire's website.
Dealers interested in learning more about My Service Reminder can contact TCS at 888-449-8473 or visit
their website at http://tcstire.com/myservicereminder
About TCS Technologies
TCS Technologies, a Microsoft Certified Partner, develops and markets both off-the-shelf and custom tire software solutions, web applications, ecommerce platforms, and support and consulting services to tire and automotive service companies across the US and Canada. As the industries only full-service technology provider, TCS has built a product base, which continues to prove itself as a revenue increasing, business streamlining asset to any size tire or automotive service business. TCS has tools
unmatched in the industry, and customization within each of its products to cater to the way tire dealers
and retreaders do business. TCS's home office is located outside Nashville, TN with a second location in
Salt Lake City, UT.
Contact:
TCS Technologies
888-449-8473
sales(at)tcstire(dot)com
http://www.tcstire.com