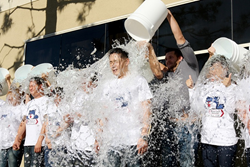 the ALS association has received over 80 million in donations worldwide to fund for further research
City of Industry, CA (PRWEB) September 10, 2014
US Bankcard Services, Inc. has taken to its heels to join the millions of people who have successfully taken on the Ice Bucket Challenge. USBSI pledged to donate to the ALS Association and raise awareness by uploading a video of its management team getting a bucket of ice cold water poured over their heads. After completing the challenge, USBSI's President, Chris Chang, nominated three noteworthy and longtime business partners of USBSI to contribute to the ALS Association and take on the Ice Bucket Challenge.
Amyotrophic Lateral Sclerosis, also known as ALS, is a progressive neurodegenerative disease that affects the human nervous system. Those affected by the fatal ALS disease experience a slow loss of control of their motor skills over time, eventually paralyzing them and preventing them from functioning normally. Although there is no known cure for the disease, the ALS association has received over 80 million in donations worldwide to fund for further research and hopes to develop a cure to the heart-wrenching disease known as ALS.
USBSI is constantly looking for different ways to raise awareness and give back to the community. As quoted from Chris Chang, "USBSI lives by its core value to give back to the community and participate in charitable causes. In the last two years alone, USBSI has contributed to Shamrocks Against Dystrophy, attended the Los Angeles AIDS Walk, donated school supplies to children in Africa by participating in the WAL Charity Golf Classic, and given blood through American Red Cross blood drives".
The USBSI Ice Bucket Challenge can be seen on our Facebook page (http://www.facebook.com/usbsi) or on YouTube (http://www.youtube.com/watch?v=AX7F1qcIDUI). We at USBSI challenge anyone who is reading this article to support ALSA in their effort to combat this disease and to partake in the Ice Bucket Challenge. Upload your video and remember to use #ALSicebucketchallenge to increase awareness for ALS!
For more information on how to donate please visit: http://www.alsa.org
About US Bankcard Services, Inc.
US Bankcard Services, Inc. is a top rated MSP that offers competitive rates, incredible customer service support, and cutting edge technology in credit card processing service. USBSI offers a wide array of value-added services, including sure3 online turn-key solutions, gift card services, check guarantee, PCI-DSS compliance consultancy, and 24-7 multilingual customer service and technical support. US Bankcard Services, Inc. is a registered MSP/ ISO of Elavon, Inc. Georgia
For more information about merchant bankcard services please visit us at usbsi.com or call us at: 1-888-525-8558. ###