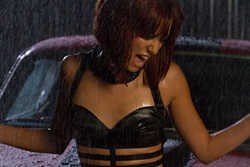 New York, NY (PRWEB) September 12, 2014
Sultry pop-rock diva Liz Allen is making quite the splash with her debut music video for "Ride of Your Life" on Vevo and is gearing up to put out an official EP set for release in the fourth quarter of 2014.
Allen's music provides empowering and electrifying anthems for the voice of every generation to dance along to, but her repertoire also showcases music that is emotional, dark, and raw, speaking to the broken hearts of all. This musical dualism is a true testament to the captivating and radiant artist that is Liz Allen.
Allen's work is no stranger to the silver screen. In fact, two songs that Allen has both written and recorded, have been featured in the end credits of two acclaimed films. Allen penned "Ride of Your Life" for Airplane vs. Volcano (2014) starring Dean Cain, Robin Givens and Lawrence Hilton- Jacobs, as well as "My Very Best Friend" for the feature film Alone For Christmas (2013) starring David DeLuise, Davis Cleveland and Kevin Sorbo.
Allen is constantly writing and tending to her art and has been doing so since the age of 12. Being the daughter of an opera singer, music has been a constant fixture in her life and has provided her with the ability to touch on emotions through her music in a way she never could by spoken word. Her musical inspirations include pop music royalty ranging from Britney Spears and Christina Aguilera to the rockin' ladies Hayley Williams of Paramore and Gwen Stefani of No Doubt. She aspires to combine forces with some of the biggest song-crafters in the world including Max Martin, Dr. Luke, Sia and Katy Perry.