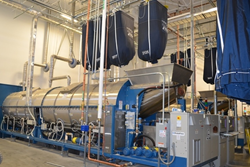 Hayward, CA (PRWEB) September 09, 2014
Western State Design, Inc. recently partnered with Crothall Laundry Services to complete and equip Crothall's design of a 60,150 Sq. Ft. state-of-the art commercial laundry facility at 2635 N. Airport Road, Manteca, California, 75 miles east of San Francisco. CLS-Northern California (Crothall Manteca) selected Western State Design to furnish all their laundry and mechanical room equipment including installation, start-up, and training services for this LEED-Certified facility.
The CLS Northern California "steamless" facility commenced operations in late June of 2014. The laundry is designed to produce 55 million pounds of healthcare linen annually. The equipment selected is the latest and most energy efficient available to meet the annual production requirements. The equipment includes the following:

8-module 150 lb capacity Milnor's Continuous Batch Washers (CBW) with award-winning PulseFlow® Technology, 56-bar presses, and Milnor 300 lb gas dryers, free standing washer-extractors, and dryers
Chicago Dryer self-contained thermal fluid ironers with heaters including low-nox burners, sheet separators, small piece folders, folders with crossfolds, dual stackers, bridges, conveyors, and controls
E-Tech automated Sort on Rail material handling systems with conveyors and controls
Thermal Engineering of Arizona's water heating & filtering and heat recovery system
Energenics Premier double auto-feed cart washer
Colmac Industries self-contained gas heated steam tunnel with auto loader
Parker Boiler direct hot water boilers with low-nox burners
Western State Design partnered with Arco Murray, the general contractor for design/build, of this laundry facility, to furnish and install the state-of-the-art commercial laundry equipment. The new facility will offer centralized laundry services to healthcare facilities in both northern and central California.
This new laundry is the most automated and technologically advanced facility in California. Crothall designed and Western State Design furnished this laundry with complete automation from the E-Tech sorting system. The overhead monorail system transports linen to the Milnor CBWs and dryers for processing. It also delivers linen to the Chicago's feeding, ironing, folding systems for finishing. Almost all linen is processed automatically through computerized systems with touchscreen controls operated by staff.
Crothall's Vice President of Engineering & Technical Services, Ian Bigelow, said "Crothall is excited to be partnering with WSD to build our second LEED-certified laundry facility from the ground up. This state-of-the-art facility will utilize the industry's most environmentally friendly equipment, processes, and chemicals, and will support the Manteca community by creating jobs at a time when they are much needed"
The new plant will save approximately 40 million gallons of water annually. This is very important due to the severe drought being experienced in California. Additionally, the natural gas consumption will be substantially reduced with the high efficiency water heating/reclamation system and dryers. The self-contained ironers are the first that have been approved by the local air quality district in California. The plant automation will reduce the manual on-going tasks required for processing. The energy efficient mechanical systems are beneficial to the environment by reducing total carbon emissions.
About Western State Design
Western State Design has provided innovative laundry solutions to meet clients' demands since 1974, providing design and construction services, commercial washer and dryer sales, parts and service. WSD brings worldwide expertise to its customers, with clients and projects throughout North and South America, Europe, and Asia. WSD's total solution approach has enabled them to become one of the world's largest companies in the laundry industry. Visit WSD online at westernstatedesign.com or call toll free at 1-800-633-7153.
Crothall Laundry Services
An operating division of Crothall Healthcare, Crothall Laundry Services provides flexible, specialized, high-quality, innovative, and responsive laundry services to the healthcare industry, using a framework of operational excellence formed by three key components: Passion, Precision, and Performance. For more information, please visit http://www.crothall.com.