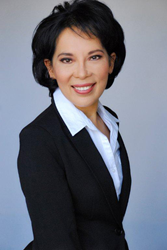 Los Angeles, CA (PRWEB) September 08, 2014
Renowned Cosmetic dentist Dr. Grace Sun now offers a new treatment, the Chao Pinhole Surgical Technique (PST™), to improve the smiles and oral health of people suffering from gum recession in Los Angeles, CA. This minimally invasive procedure provides a cleaner and more comfortable alternative to a traditional gum graft. The procedure can quickly correct the appearance of receding gums and reduce the risk of health issues associated with gum recession.
With PST™, Dr. Sun can correct widespread gum recession without making large cuts, relocating healthy tissue, or placing sutures. During the procedure, Dr. Sun only needs to make a tiny pinhole incision in the receding gum tissue. She then uses a tiny instrument to carefully loosen the gum tissue and restore it to a more natural and attractive position. Most people experience little bleeding or discomfort after the procedure, and patients can typically return to their usual activities within a day. The risk of complications such as infections is also low, so if patients need other treatments from a cosmetic dentist in Los Angeles, CA, they are more likely to be ready for those procedures sooner.
Besides making smiles appear more balanced, Dr. Sun's receding gums treatment improves comfort and offers health benefits. Gum recession can often cause tooth sensitivity, and it can also leave teeth mobile or exposed to infection. The PST™ procedure can correct all of these issues. Additionally, Dr. Sun can evaluate whether a patient is experiencing gum recession due to other oral health problems, such as gum disease or poor brushing habits. If this is the case, Dr. Sun can provide personalized advice on the steps patients can take to protect their smiles and improve their overall oral health.
Only a small number of dental professionals currently perform the PST™ receding gums treatment. Dr. Sun is committed to using cutting-edge technology, including this new technique, to provide patients from around the world with the most advanced, convenient procedures possible. People who want more information about Dr. Sun's minimally invasive treatments to improve oral health and cosmetic appearance can visit her website. Anyone who is ready to schedule an appointment with a cosmetic dentist in Los Angeles, CA, is encouraged to call Dr. Sun directly.
About the Doctor
Sun Dental Group is a cosmetic dental practice offering personalized dental care for patients in Los Angeles, CA. Dr. Grace Sun is a world-renowned cosmetic dentist and was named America's Top Dentist from 2005-2012 by her peers in dentistry. Dr. Sun has dentistry training in cosmetic, laser, prosthodontics, orthodontic, implant and dental ceramics, along with neuromuscular dentistry. Sun Dental Group uses state of the art technology and provides a comfortable, spa-like environment to ensure patient comfort. To learn more about Sun Dental Group and Dr. Sun, visit the website at http://www.sundds.com or call (310) 274-4200 to schedule an appointment.