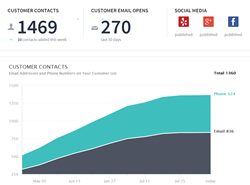 These comprehensive automated marketing solutions are likely to become a growing part of the $50 billion-plus we estimate will be spent by SMBs on local marketing and media services in 2015 -- Peter Krasilovsky, VP and Chief Analyst with BIA/Kelsey
New York, NY (PRWEB) September 10, 2014
Signpost (http://www.signpost.com), cloud-based marketing software that gives local businesses the power to effortlessly build and manage customer relationships, today unveiled a first-of-its-kind product to put data-driven marketing automation within the reach of local businesses.
"The number one pain point for local businesses is attracting and retaining quality customers, yet existing solutions are too fragmented and time consuming," said Signpost CEO Stuart Wall. "The new Signpost automates marketing to new and existing customers while providing quality insights into current customer behavior...all without taking time away from the work day."
The new Signpost, which is available for independent and franchise local business owners nationwide, combines automated marketing and customer relationship management (CRM). Our smart front office software enables seamless capture of email, phone, social media and in-person transaction data to build customer profiles. Based on this customer data, the right message (context and time-dependent email and SMS messages) is automatically sent for the merchant to boost sales, online reviews, and word-of-mouth
"Signpost is addressing an underserved area of local business marketing that includes a number of elements, including advertising, loyalty solutions and big data analytics," said Peter Krasilovsky, VP and Chief Analyst with BIA/Kelsey. "These comprehensive automated marketing solutions are likely to become a growing part of the $50 billion-plus we estimate* will be spent by SMBs on local marketing and media services in 2015."
Patent-Pending Features/Highlights
*Automatic data collection for every call, email, and credit card transaction
*Data is cross-referenced in an automated CRM platform to form comprehensive customer profiles
*Timely messages are sent on merchant's behalf to drive purchases, reviews and referrals
*Merchants get real-time spending behavior for every customer in actionable digests to uncover business trends and their best clients
About Signpost
Signpost is cloud-based marketing software that gives local businesses the power to effortlessly build and manage customer relationships. Our software automates and tracks all essential, cost-effective marketing interactions to deliver a positive, measurable return on investment. By providing comprehensive customer data and saving business owners time reaching new and existing customers with the right message at the right time, Signpost increases new and repeat sales. Signpost is backed by Spark Capital, Google Ventures, OpenView Venture Partners, Scout Ventures and a group of angel investors including Jason Calacanis, Thomas Lehrman, and Jack Herrick. The company is headquartered in New York City with locations in Denver and Austin. Learn more at http://www.signpost.com.
Source: BIA U.S. Local Media Forecast 2015 http://www.biakelsey.com/Company/Press-Releases/140903-SMB-Spending-on-Local-Media-to-Exceed-$50-Billion-in-2015.asp