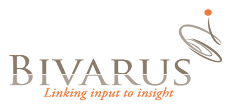 CHAPEL HILL, N.C. (PRWEB) September 09, 2014
Bivarus, an emerging, cloud-based analytics software company working with health care organizations to measure and analyze patient experience, outcomes, quality of care, and safety, today announced that David Levin has joined the company as Chief Executive Officer.
With over 20 years of experience, David is an accomplished leader within the health care and cloud-based software industries. He was a member of the original management teams at two successful local Research Triangle companies, Clinipace Worldwide and MercuryMD.
After joining Clinipace Worldwide in 2008 as vice president of global marketing, the company became recognized as one of the fastest growing private companies in the country. David played a critical leadership role in the company's inclusion on the prestigious Inc. 500/5000 list for five consecutive years, recognition as one of Forbes Magazine's America's Most Promising Companies, in addition to numerous local and regional business accolades. He made significant contributions to growth strategy, sales, marketing, operations, and helped lead the company through five acquisitions over the past six years. David's efforts led Clinipace to become a top 20 contract research organization (CRO) globally, and considered a company-to-watch in the industry.
Prior to Clinipace Worldwide, David was a key executive at MercuryMD, joining in 2001 as vice president of product management and marketing. He helped launch several well-adopted software applications into the health care market prior to the company's successful sale to The Thompson Corporation in 2006.
"As we prepare to grow and expand our product and service offerings, David brings the level of expertise that will improve collaboration, business processes, and decision-making for our health care customers," said Don Holzworth, executive chairman at Bivarus. "This is an exciting time for Bivarus, and David will lead our efforts to bring our cloud-based analytic platform to a wider audience."
"David is the perfect person to lead Bivarus as we bring novel and innovative patient-centered software that improves how care is delivered within our health care system. As co-founders, Dr. Seth Glickman [co-founder and chief scientific officer at Bivarus] and I are thrilled to have someone with David's experience and skills lead our management team as we continue investing to better serve our customers," commented Kevin Schulman, MD, co-founder and chief strategy officer at Bivarus.
About Bivarus:
Bivarus brings an entirely new science of measuring patient experience, quality, outcomes, and safety to health care organizations with its cloud-based analytics platform. Measuring and improving care delivery and quality of life outcomes - from the patient's perspective - has become one of the top priorities of the health care system; and Bivarus is at the forefront of providing a software platform for transforming patient-centered data into actionable insights. With Bivarus, health care organizations can easily identify service recovery opportunities, and proactively measure and track provider performance and organizational improvements that drive positive patient experiences. For more information, please visit http://www.bivarus.com.