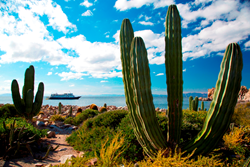 "Depending on the time of year, you may snorkel with whale sharks or you may see gray whales and their calves up close," said Captain Dan Blanchard, CEO."
Seattle, WA (PRWEB) September 09, 2014
Beginning January 2015, Un-Cruise Adventures offers a new adventure cruise in Mexico's Sea of Cortés wrapping the best marine life adventures into one itinerary. The 84-guest Safari Endeavour sails the weeklong Baja's Bounty! Whale Sharks, Whales & Mobulas itinerary roundtrip from San José del Cabo, Baja, Mexico.
"We're simplifying our itinerary choices and ensuring each guest has the best experiences included in their cruise adventure," said Captain Dan Blanchard, CEO. "Depending on the time of year, you may snorkel with whale sharks or you may see gray whales and their calves up close."
From November-March, Safari Endeavour explores the marine-rich waters of the sea and scenic, remote desert islands on weeklong adventures from San José del Cabo, Baja. The Sea of Cortés is a UNESCO World Heritage Site and Biosphere Reserve, once described by Jacques Cousteau as the "world's aquarium."
The new itinerary launching in January combines active explorations with seasonal sea life encounters. When gray whales arrive to calve in Bahía Magdalena, an overland tour to board panga boats and see whales and calves up close is included (usually January-March). At other times of the year, a snorkeling excursion in Bahía de La Paz may bring guests up close to the largest known fish in the sea—gentle whale sharks.
Exploration cruising allows for a flexible itinerary with time to seek out wildlife. Other areas visited include Isla San Francisco, Isla San José, Bahía Agua Verde, Isla Coronados, Los Islotes, Ensenada Grande and Isla Cerralvo. A half-day port call in Loreto includes a guided walking tour of the historic town.
Desert hiking, a mule ride into the arroyo, whale watching, snorkeling, kayaking, paddle boarding, skiff excursions and snorkeling with sea lions are included on all cruises. Dolphins – often in large pods, many types of whales, blue-footed boobies, sea turtles, flying mobulas, pelicans, frigate birds, manta rays and other creatures make frequent appearances. Winter holiday departures are scheduled for December 20 and 27, 2014; and December 19 and 26, 2015. Theme departures include ornithology, marine biology, photography and Kids in Nature.
The inclusive Mexico cruise includes all activities; exquisite meals; fine wine, premium spirits and microbrews; hot tub, sauna, exercise equipment, yoga on deck and a massage for wellness; transfers; and all port charges, taxes and fees. Rates begin at US$2,995 per person, double occupancy. To book or to request additional information, contact your travel agent or Un-Cruise Adventures at 888-862-8881 or sales@un-cruise.com.
###
Tweet: @Uncruise plans new adventure #cruise in #Mexico Sea of Cortés http://www.un-cruise.com/mexico-cruises-bajas-bounty
Editor's note: Visit the Media Gallery for press materials and images. More high-res photos for editorial use are available through Sarah Scoltock at sarahs(at)un-cruise(dot)com.
About Un-Cruise Adventures
Un-Cruise Adventures' yachts and small ships carry 22-88 guests on voyages in Alaska, Hawaiian Islands, Mexico's Sea of Cortés, Columbia & Snake Rivers, coastal Washington and British Columbia and Galápagos Islands. Un-Cruise Adventures, under the parent company of InnerSea Discoveries Alaska Inc., is a member of Trusted Adventures, dedicated to the highest standards of small-group travel and to giving back to the places visited.