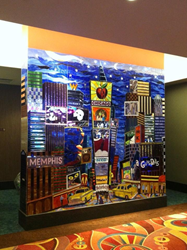 New York, NY (PRWEB) September 10, 2014
Mixed Up Mosaics Commercial is a new mosaic design company created by Lesley Rattner-Provenzano, founder of the original Mixed Up Mosaics.
After twenty-five years of having a partner in the mosaic art industry, Lesley branched out on her own and created a new state of the art mosaic design studio located at 450 West 31st Street in New York City. The new studio space is housed in a fantastic creative commons. It is a small boutique building that features world-renowned architects such as The Nancy Graves Foundation and landscape architect Ken Smith, whom Lesley shares a floor with.
"I am over the top excited about branching out on my own. A long time ago it became apparent to me that I wanted to do different things with my mosaics. I wanted to offer my art at competitive pricing compared to the industry while creating new tiles and designs to fit almost any budget. With Mixed Up Mosaics Commercial we can control production, quality and delivery from end to end like never before." Said Lesley Rattner-Provenzano, President of Mixed Up Mosaics Commercial.
Lesley brings over 25 years of eccentric creativity and world class mosaic art experience with her accompanied by a team of mosaic artists and designers that will permit her to continue producing jaw dropping mosaic artwork for the hospitality industry at large.
Mixed Up Mosaics is known for their breathtaking mosaic murals, walls, floors, tile patterns/styles and stained glass art. Mixed Up Mosaics Commercial will continue to produce beautiful and outrageous designs for some of the most famous architects and hospitality clients around the world.
Lesley is currently working on many large projects, most notably the Parx Casino, the Baha Mar resort in the Bahamas and on the table is a new high end commercial space located in downtown Manhattan set to open in 2015.
Mixed Up Mosaics Commercial is planning to roll out an entire new hand blown glass line and take stained glass and mosaics to a whole new level. In 2012, Lesley developed a line of wallpaper as an addition to her glass line; the launch for this is planned for 2015.
Please contact Lesley Rattner-Provenzano to request samples or see how she can assist you with your next mosaic design project.