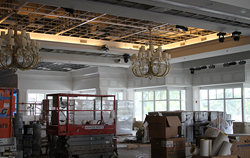 "Life at Polo is more than a lifestyle; it's knowing that when living here, you are living the dream."
Boca Raton, FL (PRWEB) September 30, 2014
Polo Club of Boca Raton's Strategic Planning and Marketing Committee recently implemented a plan which not only enhances the lifestyle and value of Club Membership but will also attract the next generation of Members, helping to energize the Club for decades to come.
After conducting extensive research and analysis on current and prospective Members' wants/needs and hiring a highly professional management team, Polo Club has embarked on a $25 million clubhouse renovation. Aspects include a new, elegant entranceway, lobby and foyer, newly appointed restaurants, an enticing Rooftop Terrace, and updates to the existing Resort & Tennis Shoppe and Spa and Fitness Center. The revamped Spa is expected to reopen with a renewed tranquil flow, allowing Members to relax and rejuvenate or simply enjoy a day of pampering.
In addition to the renovation, which is scheduled for completion by later this fall, Polo Club's Board of Governors recently adopted a New Membership Entrance Initiative for incoming Members, effective Oct. 1, 2014. "The extensive renovation and our new Membership focus will not only enhance our Members' lifestyles but attract younger, active Members by reasserting our position as a strong sports-oriented Club," according to General Manager/COO Brett Morris. To make Membership more attractive to new home buyers in the highly competitive South Florida market, the Polo Club will offer new Members the opportunity to select a lifetime or a 15-year Golf and/or Tennis Membership, a discount in Membership Joining Fees for adding Golf and/or Tennis (depending on age) and a three-year interest-free Joining Fee payment plan.
Effective October 1, 2014
Membership Type <50 yrs 50–59 yrs 60-69 yrs 70 and older
Social Membership $70,000 $70,000 $70,000 $70,000
Social plus Golf $40,000 $50,000 $60,000 $70,000
Social plus Tennis $40,000 $50,000 $60,000 $70,000
Full Membership $40,000 $50,000 $60,000 $70,000
All Joining Fees provide a 3-year payment plan (50/25/25)
In addition, Members choosing the 15-year option, upon completion, may continue their Golf or Tennis Membership yearly by making a one-time payment of 50 percent of the then-current dues, and paying the annual dues and fees in effect at that time. "By making sports Memberships more attractive, and by having the opportunity to choose a 15-year Membership option, Polo Club's New Membership Initiative will create a win-win situation for new and current Members," said Morris. "With the renovation and new Membership focus, life at Polo is more than a lifestyle; it's knowing that when living here, you are living the dream."
About Polo Club Boca Raton:
Polo Club Boca Raton is a premier private golf club, tennis club and resort residential community in South Florida. Located on 1,100 meticulously manicured acres in Palm Beach County, just seven miles from downtown Boca Raton, Polo Club provides its members with two premier Championship Golf Courses, a nationally recognized tennis facility with 27 Har-Tru courts, a 35,000-square-foot, world-class spa and fitness center and a myriad of social and dining activities.