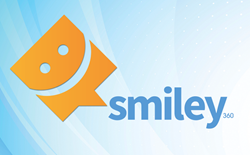 The new Smiley360 site is designed to make engagement even more effortless and fun for our loyal and growing community and to provide a rich tool for brands who seek their honest opinions and recommendations on social media. - Susan Frech, CEO
New York, NY (PRWEB) September 09, 2014
Social Media Link, a leading advocacy activation company, today announced the launch of the new website for its 400,000 member Smiley360 community that seamlessly connects influencer advocates to brands to drive word-of-mouth marketing across social media, and offers insights and analytics that allow brands to deepen their relationships with their most important customers.
Social Media Link's Smiley360 community has grown exponentially since its launch in 2009, matching social media influencers at scale with hundreds of brands including packaged goods brands from Church and Dwight, BIC, Pfizer, Georgia Pacific; entertainment companies such as NBC and Starz networks; and retailers like Kmart, Sears and The Sleep Number Store. Smiley community members receive "Missions" from brands – opportunities to experience products and services by trying them in new and fun ways, and, share their opinions about their experiences on social media.
"The new Smiley360 site is designed to make engagement even more effortless and fun for our loyal and growing community and to provide a rich tool for brands who seek their honest opinions and recommendations about their products and services on social media," said Susan Frech, chief executive officer, Social Media Link.
To meet Social Media Link's strategic vision to improve members' connection to brands and to one another, the renovated Smiley360 community website includes a new influencer discussion section, upgraded social sharing tools with Smiley "Single-Click Sharing℠" technology and gamification through points and badges.
The new Smiley360 also has advantages for brands, offering customizable and branded landing pages for each "Mission." The new website also lets brands create unique brand badges for their advocates, field surveys, host private and public discussions and offers dynamic data and real-time analytics to give brands a better understanding of their consumers.
The Orajel™ Single Dose Cold Sore Treatment brand will be one of the first to launch a new Mission on the Smiley360 site.
"We have utilized the Smiley360 community many times to drive advocacy results for our brand. We're excited the new Smiley platform gives us a great opportunity to customize the experience our influencers have with our brand and to tailor social sharing to channels we find most relevant to our product," said Tim Seitter, Vice President of Oral Care at Church & Dwight Co. Inc.
Smiley360 members share their positive sentiment as well, with members like Fran commenting "I love the new look and feel, it is clean and simple," and member Carrie saying, "I am excited about the new website and eager to try and share my pros and cons on whatever they offer!"
About Social Media Link: Social Media Link (SML) http://www.socialmedialink.com is the leading advocacy activation company that amplifies social media conversation for brands. The company makes it easy for brands to activate impactful and trusted reviews and recommendations across social media, triggering in-store action and leading consumers through the path to purchase.
SML's brand activation platform, Smiley360.com, is a social community for influential people who love brands. Marketers utilize the platform to activate targeted consumers to experience their brand and share reviews with the social norks they influence. Proprietary Single-Click Sharing™ technology makes it easy for consumers to feed reviews to their most preferred social networks in one place, giving brands enormous exposure in social channels from passionate consumers.
Tags: influencer advocates, influencer community, influencer activation, influencer marketing, Software as a service, SaaS, Social Media Link, Smiley360, Smiley 2.0, Smiley, Susan Frech, Cloud Castle, brand marketing, marketers, Vesta,
For more information contact:
Bonnie Morris
Company B
914-500-5150
bonnie(at)companyb-ny(dot)com