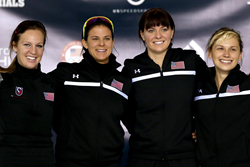 "With a new coach and team of National Training Program athletes, there's fun on the ice, new tactics and no telling what we can do this year." - Alex Izykowski
Kearns, Utah (PRWEB) September 08, 2014
Familiar faces JR Celski, Sarah Chen, Alyson Dudek and Emily Scott return to the National Training Program for the 2014-2015 season. Joining them will be Jeff Simon, whose performance was instrumental in helping the USA qualify as the world's top ranked relay team going into Sochi.
"We have a very hungry team this year", says Short Track Manager and Assistant Coach, Alex Izykowski. "With a new coach and team of National Training Program athletes, there's fun on the ice, new tactics and no telling what we can do this year. We're building the National Training Program in the direction we'd like to see it going for 2018 and beyond."
US Speedskating's Long Track national team reloads for the 2014-15 season with internationally successful veteran athletes including Olympians Brittany Bowe, Joey Mantia and Mitch Whitmore, as well as a new talented youth movement, eager to prove themselves on the World Cup in the sport of Speedskating.
"US Speedskating's National Training Program strives to be one of the greatest elite training programs in the world", said Long Track Program Director, Nick Pearson. "Our job is to provide our athletes and programs with the most advanced resources and support services available in the world of Sport Performance. We hope these programs continue to produce World Championship and Olympic medalists for many years to come."
Complete 2014-2015 Roster:
LONG TRACK NATIONAL TRAINING PROGRAM
Petra Acker (Clifton Park, NY)
Brittany Bowe (Ocala, FL)
Jonathan Garcia (Houston, TX)
Kelly Gunther (Lorain, OH)
Steven Hartman* (Falcon Heights, MN)
Joey Mantia (Ocala, FL)
Xander Mark* (Pennsburg, PA)
Chase Reichmann* (West Allis, WI)
Kyle Ronchak* (Arden Hills, MN)
Sugar Todd (Milwaukee, WI)
Mitch Whitmore (Waukesha, WI)
SHORT TRACK NATIONAL TRAINING PROGRAM
Alexis Burkholder* (Pittsburgh, PA)
Adam Callister* (Salt Lake City, UT)
Kyle Carr (Peach Tree, GA)
JR Celski (Federal Way, WA)
Jacqueline Chen* (San Marino, CA)
Sarah Chen (San Marino, CA)
Alyson Dudek (Hales Corners, WI)
Casey Mullarkey* (Cleveland, OH)
Jake Powers* (Greensboro, NC)
Katy Ralston* (Saratoga Springs, NY)
Emily Scott (Springfield, MO)
Jeff Simon (Las Vegas, NV)
Kyle Uyehara* (Lakewood, CA)
*Indicates first year National Training Program member
About US Speedskating
From Pond to Podium, we are US Speedskating. We grow and nurture a sport where all ages can experience the thrill of speed and the camaraderie of the skating community. US Speedskating is responsible for the development of speedskating from grassroots to the highest elite racing programs. US Speedskating is recognized by the United States Olympic Committee and the International Skating Union as the governing body for the sport of speedskating in the United States. The Organization has won 86 Olympic medals to-date, making it one of the most successful sports in U.S. Olympic history. US Speedskating is a 501(c)3 non-profit organization. Follow us on Twitter @USSpeedskating, Instagram @USSpeedskating, on Facebook Facebook.com/USSpeedskating and at http://usspeedskating.org