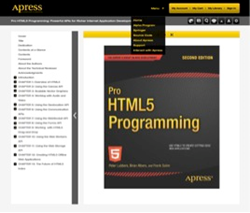 "Apress Access is fast, searchable and contains a massive amount of great content. It should be THE place where every technical professional goes FIRST for reliable in depth content." —Jeff Pepper, Associate Publisher, Apress
New York, NY (PRWEB) September 09, 2014
Today, Apress Media, the authoritative global publisher of IT and business content, launched Apress Access, a new unlimited subscription for their content. The service will have a yearly cost of $199 and will allow users unlimited usage of Apress titles across all categories. The Apress Access reader will be accessible by signing in to a subscriber's Apress account utilizing a browser on a desktop, laptop, or mobile device. Customers who regularly purchase Apress eBooks at full price will reap significant savings from the program.
Apress Access features include:

Unlimited access to Apress titles for a full year
Instant access to each new Apress publication
Use of the new exclusive to Apress reader with extensive search functions
Compatibility on any device—desktop, laptop, or mobile
Option to download any eBook for just $4.99 for a limited time
With titles for beginning to advanced users, new customers will have the opportunity to learn from field experts on hot topics dealing with Microsoft, Apple, Android, HTML5, and Arduino, among other categories. Business titles dealing with startups, venture capitalists, the "At Work" series, and more are also included in the Apress Access subscription.
"Apress Access is fast, searchable and contains a massive amount of great content. It should be THE place where every technical professional goes FIRST for reliable in depth content. You can either learn what you need in depth or get a quick answer. The days of searching on the Internet for thin, unreliable, piecemeal content are over."—Jeff Pepper, Associate Publisher, Apress
The subscription program complements Apress' success in digital publishing and meets the needs of their highly-connected customer base .
For more information on Apress Access, please visit http://www.apress.com/subscription.
About Apress Media
With more than 1,500 books in print and e-formats, Apress is the authoritative source for IT professionals, software developers, and business leaders all over the world. Apress provides high-quality, no-fluff content that helps serious technology professionals build a comprehensive pathway to career success. Since 2007, Apress has been part of Springer Science+Business Media, one of the world's leading scientific, technical, and medical publishing houses, enabling global distribution of Apress publications. For more information, please visit http://www.apress.com.