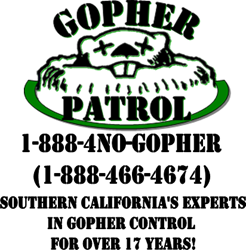 "Gopher and Pest Control professionals! Gopher Patrol ...really knows and understands how to deal with the problems that come along with living in a heavily wooded and green area." - D. R.
Los Angeles, CA (PRWEB) September 23, 2014
This summer has been one of the hottest and driest summers since 1970 according to meteorologists around the globe. All the dense dry heat is great motivation for critters of all kinds to be on the hunt for water and nourishment. Insects such as earwigs, roaches, and ants are all main contenders in the race for survival. Gopher Patrol has been offering pest sprays for spiders, ants, and other crawling insects in 6 different counties for over 17 years. To protect homes this upcoming fall they suggest preventative measures for the very invasive spiders and rodents that may be looking for resting places for the soon to come cool weather.
A few of the specials running for the months of September and October are:

$99 for an initial exterior pest spray
This spray acts as a deterrent as well as an on site killer for the spiders trying to invade housing. Interior treatment pricing is based on square footage.
The initial gopher control is important for maintaining and controlling activity taking over front and backyards all throughout Southern California.
Gopher Patrol believes that getting to the route of your problem is key. After a thorough inspection we will identify all points of entry by rodents and offer a plan to finally rid home for good of rats or mice.
Instead of searching out a tree to nest in, during fall squirrels may make themselves at home in the attic – setting up leaves and fluff and getting comfortable out of the reach of predators.
$65 for bi-monthly pest control
The bi-monthly pest service is optimal for properties that may have reoccurring activity but not severe amounts.
Eco Friendly options are available for all of the above mentioned services. Gopher Patrol strives to maintain environmentally safe opportunities to customers all throughout Southern California.