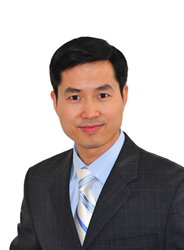 "Kang brings an acumen to Quintech that will allow us to continue to define and deliver innovative wireless testing products and solutions bringing even greater value to our customers." - Frank Elling, President, Quintech Electronics
Indiana, PA (PRWEB) September 08, 2014
Quintech Electronics and Communications, Inc. is pleased to announce the addition of Mr. Kang Chen as the new Business Development Manager for Wireless Test & Measurement.
Mr. Chen possesses a MSEE from Rutgers University and joins the Quintech team as an industry expert in wireless test and measurement. He has a strong technical background with 15 years of experience in the wireless industry. He is particularly knowledgeable of LTE, UMTS, CDMA, GSM radio access networks and 802.11 family technologies.
Quintech is confident in Mr. Chen's ability to analyze customer needs and requirements while communicating highly technical solutions. "I am very pleased to have Kang join our team to help Quintech better serve the worldwide market of RF matrix switch applications for test and measurement. Kang brings an acumen to Quintech that will allow us to continue to define and deliver innovative wireless testing products and solutions bringing even greater value to our customers", says Frank Elling, President of Quintech Electronics. Mr. Chen comments "…the wireless industry is facing a test challenge of increasing number of antennas and the complexity of different radio access technologies. I am excited to join Quintech and lead the effort of driving innovative solutions to help our customers meet this challenge."
Kang Chen has held previous positions at tier-one technology companies such as Alcatel Lucent, Agilent Technologies and Spirent Communications. He also built and managed technical partnerships with wireless industry leaders such as Broadcom, Intel and Apple, as well as top carriers and service providers including Sprint, Verizon and AT&T.
Quintech will exhibit at the 2014 CTIA wireless trade show September 9-11 at the Las Vegas Convention Center, booth no. 2961. The CTIA is one of the world's largest forums for the cellular and wireless industry.
About Quintech:
For over 15 years, Quintech Electronics and Communications Inc. has provided keystone test & measurement matrix switches to tier one wireless testing laboratories around the world. These RF matrix switching systems allow for wireless test lab automation providing repeatable, recordable and remotely controlled testing. Our global customer base includes chipset, network equipment, device and UE manufacturers. This automation is critical for the complex, ever changing wireless environment commonly referred to as the Heterogeneous Network (HetNet). Quintech also provides lab management software that allows for scheduling multiple remote users, bringing cost and resource efficiency to a critical part of the product development and verification process. Quintech lab automation products and software, accompanied with nanosecond switching speeds, enable the emulation of free space in a controlled environment.