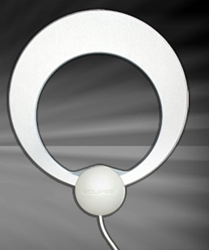 No mounting, no nails and no holes in the wall. This antenna is the easiest way to liberate yourself from the evil clutches of cable
St. Louis, MO (PRWEB) September 08, 2014
For over 10 years, Antennas Direct has been a leader in reinventing the over-the-air television viewing experience. This month, the company releases its latest innovation, the ClearStream™ Eclipse with Sure Grip™ technology. The revolutionary indoor HD-antenna harnesses the power of the latest antenna research and places it in a compact design which can easily grip and regrip any flat, smooth surface.
"People are cutting the cable cord in record numbers," says Richard Schneider, president and founder of Antennas Direct. "We have created a product you can just slap to your window and you have uncompressed HD television for free. It doesn't get any easier than the Eclipse."
The new ClearStream™ Eclipse has two available models. The passive version has a reception distance of 25-plus miles while the amplified version has a reception distance of 35-plus miles. Both models receive both UHF and high frequency signals. Testing shows the sleek antenna has a performance level similar to Antennas Direct's Micron, another compact indoor HD-antenna. Both Eclipse models come with the advanced Sure Grip technology, which means it can be applied and reapplied to any clean flat surface.
"No mounting, no nails and no holes in the wall. This antenna is the easiest way to liberate yourself from the evil clutches of cable," says Schneider.
Pre-orders are now available for the all-new Eclipse HDTV Indoor antenna exclusively at http://www.antennasdirect.com/eclipse. Those who pre-order by September 10 will receive a gift card redeemable for 3 months of Hulu Plus.
About Antennas Direct
Antennas Direct is the leader in antenna technology, reinventing the antenna for the digital era. With a heritage in over-the-air antennas specifically tuned for core DTV frequencies, Antennas Direct has invested major resources into the discovery and implementation of new antenna designs for digital reception. Founded in 2003, the firm is a member of the Inc. 500|5000 Hall of Fame and Future of TV Coalition. Visit antennasdirect.com for more information.
###