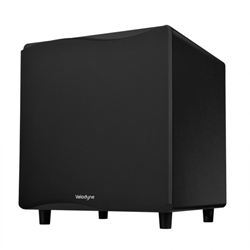 DENVER, Colo. (PRWEB) September 10, 2014
High-end audio pioneer and technology innovator Velodyne Acoustics (http://www.velodyne.com) and Canada-based Kevro International Inc. (http://www.kevro.com) today announced an exclusive agreement that will provide audio/visual installers and retailers across Canada with convenient access to Velodyne's full line of high-performance, low distortion subwoofers.
The announcement was made during opening day of the annual conference of the Custom Electronic Design & Installation Association (CEDIA) conference being held through Sept. 13 at the Colorado Convention Center in Denver.
Founded in 1984, Kevro International is a North American distributor of high-quality audio and home theater products to professional retailers and system integrators across the United States and Canada. The agreement with Velodyne pertains only to distribution in Canada.
"We are pleased to announce that our full line of subwoofers will be locally warehoused and available for shipping by Kevro International to consumer electronics retailers and professional installers across Canada," said Rob Morse, Director of Business Development at Velodyne. "This marks the first time in four years that Velodyne products will be widely available to consumers in Canada by way of a partner that is experienced with handling high-end audio products."
"Velodyne is long-respected and highly regarded as a leading manufacturer of high-quality subwoofers with a great mix of price points, making it a logical choice for integrators and retailers looking for performance and value in a well-recognized line," said Sheldon Ginn, Vice President of Sales and Marketing at Kevro International. "Putting Velodyne products closer to the dealer will significantly reduce shipping time and import challenges and allow for just in time delivery. All of us at Kevro and our representatives are looking forward to presenting Canadian dealers this great mix of subwoofers from Velodyne."
For more than three decades, Velodyne has been recognized as the leading manufacturer of high-performance, low distortion powered subwoofers that fit any budget. From the affordable power of the Impact series to the pinnacle of performance, the Digital Drive PLUS series, and plenty of options in between, Velodyne makes a subwoofer for nearly any application or budget. Most recently, Velodyne introduced the Wi-Q series, which is the culmination of more than 30 years of leadership in subwoofer technology. The Wi-Q includes a wireless transmitter that can be linked and placed virtually anywhere in the room – without the need to run or hide unsightly wires.
A History of Innovation
In 1983, David Hall, Velodyne's founder and chief engineer, revolutionized subwoofer design with the ULD-18, which incorporated a patented, accelerometer-based High Gain Servo System to control the woofer cone movement. The massive speaker system went lower, played louder and produced distortion levels 20 to 30 times less than anything else on the market.
Hall and Velodyne have introduced other innovations, including the Dual Tandem Voice Coil, Energy Recovery Amplifier, Digital High Gain Servo-Control and the Digital Drive Room Bass Equalization System. In 2003, Velodyne introduced the world's first digitally tuned subwoofers with DSP technology.
Today, Velodyne subwoofers contain the industry's most flexible and complete feature packages, enabling perfect integration with virtually any system. High-quality crossover networks in all Velodyne subwoofers can actually double a receiver's usable power and even lower the main speakers' distortion levels when using the "Subwoofer Direct" feature with the LFE output. Crossover parameters are meticulously engineered to guarantee a perfect blend with any system, regardless of speaker size.
Custom installers appreciate that Velodyne subwoofers deliver superior sound in every type of system. In addition to introducing the first remote controlled subwoofers, Velodyne has engineered sophisticated and easy-to-use digital room bass EQ systems; easy to build in-wall, in-cabinet, in-floor and in-room subwoofers; and one-button-to-perfect bass automatic equalizations for music, theater and games. To ensure maximum output and minimum distortion, unique "anti-clipping" circuits in Velodyne subwoofers automatically monitor the amplifier, allowing the subwoofer to utilize its full power capacity without distorting. Exclusive "dynamic-compression" and over-excursion circuits are also integrated into Velodyne subwoofers to protect from overload and provide extraordinary reliability and durability.
About Velodyne
Founded in 1983 and based in California's Silicon Valley, Velodyne Acoustics is a diversified technology company known worldwide for its high-performance audio equipment and real-time LiDAR sensors. The company is widely recognized as the leading manufacturer of high-performance, low-distortion, powered subwoofers and an expanding line of technically innovative in-ear and over-ear audio products, which include interchangeable, custom-designed skins that enable audiophiles to personalize the look of their headphones. Velodyne products are available online at http://www.velodyne.com and from a select group of authorized dealers, custom installers and distributors worldwide. Since 2007, Velodyne's LiDAR division has emerged as a leading developer, manufacturer and supplier of real-time LiDAR sensor technology used in a variety of commercial applications including autonomous vehicles, vehicle safety systems, 3D mobile mapping, 3D aerial mapping and security. For more information, visit http://www.velodynelidar.com. For the latest information on new products and to receive Velodyne's newsletter, register here.