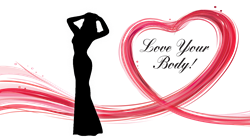 A woman's sense of self worth can not be defined by her size, shape, age, or color. The Love Your Body fashion show was created to help all women believe that they are valuable and should be valued.
Los Angeles, CA (PRWEB) September 09, 2014
Karen Michelle Boutique and Channel 4 Change today announced the 2nd annual Love Your Body Fashion Show, an LA city-wide event, focusing on empowering women to love and accept their bodies. Complete with a boutique and Women's Wellness Corner, attendees are invited to shop, relax, and enjoy the many complimentary services and offerings that will be onsite. This highly anticipated complimentary event will take place November 2, 2014 at the Luxe Sunset Boulevard Hotel. To receive your complimentary entry, please register at: http://bit.ly/lyb-la
"We created this event in an effort to merge the fashion industry with women's wellness and positive body image so that every woman can love and accept her body as is," Mia Adler Ozair, Founder of Channel 4 Change said. "Our vendors and models are hand selected to promote a message of beauty through health and wellness and to demonstrate that women are wonderful in every shape, size, color, and age."
Founded in 2013, the Love Your Body fashion show was created by Karen Michelle and Mia Adler Ozair. Both women saw a need to empower women to accept and love themselves and their bodies and decided to partner with different charities across Los Angeles that help women in all facets of life.
This year's event will promote its charity partner, Dress for Success Worldwide – West. Dress for Success is an international not-for-profit organization that promotes the economic independence of disadvantaged women by providing professional attire, a network of support and the career development tools to help women thrive in work and in life.
"We are pleased to be working with Dress for Success," Karen Michelle said. "We believe that the work that they do to help women succeed in their jobs and lives is truly valuable and we want to support that."
This year's event will take place at the Luxe Sunset Boulevard Hotel on November 2nd from 10:30 – 3:00. Attendees will enjoy shopping, food, workshops, and a fashion show. Speakers will touch on the topics of life balance, nutrition, fitness, body image, and wellness. To receive your complimentary entry, please register at: http://bit.ly/lyb-la
Sponsors of this year's event include: Karen Michelle Boutique, Channel 4 Change, JP Morgan Aleksandra Kulmaticki Mickey Fine Pharmacy & Grill, Aaron Keigher Photography, Destiny Candle, TJL, ORLY International, and The Ovarian Cancer Circle. For sponsorship opportunities please contact: Karen Michelle at KarenM1969(at)aol(dot)com.
About Love Your Body fashion show:
Founded in 2013 by two like minded women, a boutique owner and a psychotherapist, who believe passionately that a woman's sense of self worth can not be defined by her size, shape, age, or color. The Love Your Body fashion show was created to help all women believe that they are valuable and should be valued. For more information please visit: http://www.FACEBOOK.COM/LOVEYOURBODYEVENTS